Victor Yampolsky, the Carol F. and Arthur L. Rice Jr. Professor in Music Performance at Northwestern University's Henry and Leigh Bienen School of Music, will retire at the end of the 2021-22 academic year, marking the conclusion of a 38-year teaching and conducting career at Northwestern.
In his final concerts at Northwestern, Yampolsky conducts Gustav Mahler's Symphony No. 9 on Saturday, June 4, and Sunday, June 5, at 7:30 p.m. in Pick-Staiger Concert Hall, 50 Arts Circle Drive on Northwestern's Evanston campus. The June 4 performance will also be presented as a live stream. The program will open with the State Anthem of Ukraine.

Beloved by audiences and conductors alike, Mahler's Ninth is often interpreted as his farewell to the world, though it may also be heard as a paean to life's fleeting joys, and a pondering of eternity. Sweeping in scope, the symphony references Beethoven, Strauss, and Mahler's own music, concluding with a deeply poignant finale.
Tickets can be reserved online at the links below, by phone at 847-467-4000, or in-person at the Ticket Office, which is located at the southeast entrance of Pick-Staiger Concert Hall. Ticket Office hours are Mondays through Fridays from 10 a.m.-6 p.m. and Saturdays from noon-3 p.m.
About Victor Yampolsky
Early in his musical career, Yampolsky studied violin with David Oistrakh at the Moscow Conservatory and conducting with Maestro Nicolai Rabinovich at the Leningrad Conservatory. He was a member of the Moscow Philharmonic as both assistant concertmaster and assistant conductor, under the direction of Maestro Kyrill Kondrashin. In 1973, Yampolsky emigrated from the Soviet Union to the United States, where a recommendation from conductor Zubin Mehta led to an audition for Leonard Bernstein, who offered him a scholarship to conduct the Young Artists Orchestra at the Berkshire Music Center in Tanglewood, Massachusetts. He soon accepted a position in the violin section of the Boston Symphony and was later appointed the orchestra's principal second violinist.
"Bernstein had this unbelievable passion for the art of music and an unstoppable desire to share it with youngsters, so I try to share with my students everything I know," said Yampolsky. "We are not only teaching intellectual knowledge; we are teaching emotions and life skills."
Yampolsky has conducted over 80 professional and student orchestras worldwide, including repeat engagements with ensembles in the United States, Canada, Spain, Portugal, Australia, New Zealand, South Africa, South Korea, Taiwan, the Czech Republic, Israel and Chile. He has served as music director of the Peninsula Music Festival in Door County, Wisconsin; honorary director of the Scotia Festival of Music in Halifax, Nova Scotia; music director of the Omaha Symphony Orchestra; and principal conductor of the National Symphony Orchestra in Johannesburg, South Africa.
He has recorded for Pyramid and Kiwi-Pacific Records. He was recently appointed conductor laureate of the Peninsula Music Festival in Door County, Wisconsin. He also serves as music director emeritus of the Omaha Symphony Orchestra and honorary director of the Scotia Festival of Music in Halifax, Nova Scotia.
A dedicated educator, Yampolsky has led conducting master classes throughout the world. He has served as adjunct professor of violin and director of orchestras at the Boston University School of Music. Other teaching engagements have included the State Conservatory of St. Petersburg, Russia; Stellenbosch Conservatory in South Africa; the Cape Philharmonic Youth Orchestra in Cape Town, South Africa; Emory University; and the Universities of Akron, Victoria and Nevada. Other activities include serving as a panel member of the American Symphony Orchestra League (now the League of American Orchestras) Conductors' Continuum Committee. He has been a juror for the Prokofiev International Conducting Competition in St. Petersburg, Russia; the Len van Zyl conducting competition in Cape Town, South Africa; and the Conductors Guild and CODA associations.
Yampolsky led the Omaha Symphony in its debut recording, "Take Flight" (2002) and the world premiere of Philip Glass' second piano concerto, which received an award from the Nebraska Arts Council. He holds honorary doctoral degrees from Doane University and the University of Nebraska-Omaha.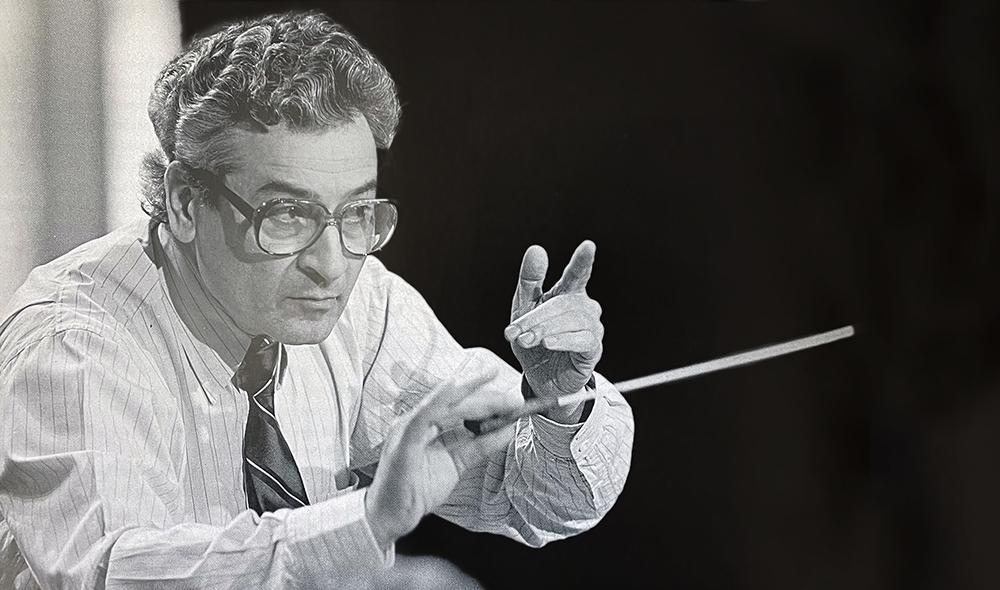 Victor Yampolsky, 1993
Maestro Yampolsky's Legacy
Northwestern Career Highlights
1984: Victor Yampolsky joins the Northwestern University faculty as director of orchestras
1993: Yampolsky is named the first chairholder of the Carol F. and Arthur L. Rice Jr. University Professorship in Music Performance
1996: In celebration of the School of Music's centennial, Yampolsky conducts the Symphony Orchestra in a gala performance in Chicago's Orchestra Hall and records an album with the ensemble featuring faculty violin soloist Gerardo Ribeiro
2000: Yampolsky conducts a fall performance of Beethoven's Ninth Symphony, held in honor of the 25th anniversary of Pick-Staiger Concert Hall
2010: Yampolsky serves as director for the Bienen School's "Music from Kyiv: A Festival of Ukrainian Composers"; that same year, he leads the Symphony Orchestra in concert at Chicago's Millennium Park in conjunction with the John Corigliano Festival
2016: In honor of the opening of the Patrick G. and Shirley W. Ryan Center for the Musical Arts, Yampolsky conducts two performances of Mahler's "Resurrection" Symphony
2018: Yampolsky leads the Symphony Orchestra in a spring 2018 Asia Tour, which includes performances in Beijing, Shanghai and Hong Kong
2022: Yampolsky concludes his 38-year teaching and conducting career at Northwestern with two performances of Mahler's Ninth Symphony
Thousands of students have trained under Yampolsky over the course of his Northwestern career. Alumni of the Northwestern University Symphony Orchestra are members of major symphony orchestras across the country and around the world. Conducting alumni hold positions as music directors and administrators in arts organizations and universities across North America, Asia, Europe and South America.
Victor Yampolsky: 2021-2022 Concert Schedule
The Northwestern University Symphony Orchestra's 2021-22 concert season will reflect on the composers that shaped Yampolsky's career, as well as his musical legacy.
"My programs will represent a musical homage to great masters of orchestral music, as viewed nostalgically back from today," Yampolsky said. "You will see the deep thanks to Beethoven and Brahms in October; to Debussy, Messiaen and Honegger in November; and to my time as a violinist of the Boston Symphony, performing light classics for the holidays, with a program conducted by my students."
Saturday, Oct. 23, 7:30 p.m.
Victor Yampolsky and graduate assistant Jake Taniguchi conducted a program featuring Ludwig van Beethoven's Overture from "Fidelio," Op. 72c and his Symphony No. 4 in B-flat Major, Op. 60, as well as Johannes Brahms's Symphony No. 2 in D Major, Op. 73.
Saturday, Nov. 13, 2021 at 7:30 p.m.
Victor Yampolsky and graduate assistant Moyue Zhou conducted a program showcasing Claude Debussy's "Prélude à l'après-midi d'un faune" (Prelude to The Afternoon of a Faun); Olivier Messiaen's "L'Ascension" (Four Symphonic Meditations for Orchestra); and Arthur Honegger's Symphony No. 3 ("Symphonie liturgique").
Saturday, January 29, 2022 at 7:30 p.m.
Victor Yampolsky and graduate assistant Jennifer Huang led a program of Gioachino Rossini's Semiramide Overture and Dmitri Shostakovich's Symphony No. 5 in D Minor, Op. 47.
Saturday, March 5, 2022 at 3 p.m.
This performance showcased winners of Northwestern's Concerto Competition—pianist Vincent Ip, alto saxophonist Charles Lilley, and cellist Haddon Kay. The program included Sergei Prokofiev's Piano Concerto No. 3 in C Major, Op. 26; Kenneth Fuchs's Rush: Concerto for Alto Saxophone and Orchestra; and Antonín Dvořák's Cello Concerto in B Minor, Op. 104, B. 191.
Saturday, April 16, 2022 at 7:30pm
Victor Yampolsky and graduate assistant conductor Yuxin Dai conduct a program of William Bolcom's Violin Concerto in D Major, featuring Bienen faculty violinist Desirée Ruhstrat. The concerto, which Bolcom wrote for colleague Sergiu Luca as he worked with jazz technique, is both bluesy and bold, drawing harmonic and rhythmic inspiration from Gershwin and Stravinsky alike. The concert also features Samuel Barber's pensive "Essay" and Sergei Rachmaninoff's versatile "Symphonic Dances."