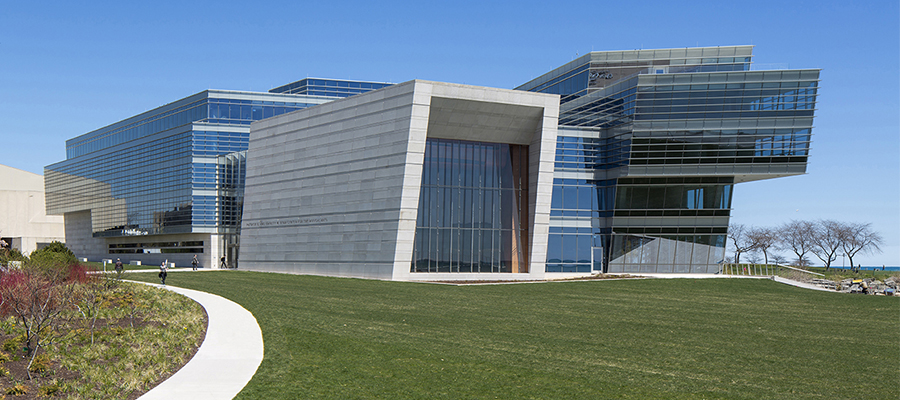 Ryan Center for the Musical Arts
70 Arts Circle Drive
Evanston, IL 60208
Opened in 2015, the Patrick G. and Shirley W. Ryan Center for the Musical Arts is situated on the lakefront and integrates completely with Regenstein Hall of Music, with two connections between the buildings on each of Regenstein's three levels. The Ryan Center's three performance venues include the Mary B. Galvin Recital Hall, Shirley Welsh Ryan Opera Theater, and David and Carol McClintock Choral and Recital Room.
Designed by Chicago-based architectural firm Goettsch Partners, the design features a limestone base supporting an exterior that is primarily glass, taking maximum advantage of the site's lakefront location and views of the Chicago skyline.
Practice Spaces
All practice rooms in the Ryan Center are accessible only by music majors in the Bienen School. Rooms are available on a first-come, first-serve basis. Most practice rooms can be reserved in advance via a weekly sign-up sheet posted outside each room, though some rooms may only be reserved in advance for specific purposes.
Practice rooms are located on the 2nd and 3rd floors and are available 7 a.m. to midnight seven days a week.
All practice rooms require a registered HID-enabled WildCARD for access. Please contact musicfacilities@northwestern.edu with questions about practice rooms and card access.
Additional Practice Room Information
Hours of Operation
Administrative Offices
Mon-Fri, 8:30 a.m. to 5 p.m.
Practice Rooms
Mon-Sun, 7 a.m. to 12 midnight
Building Access Hours
Mon-Fri, 7 a.m. to 10 p.m.
Sat-Sun hours vary depending on scheduled activities
Note: These hours are during academic year; summer and holidays may differ. Access outside these hours is by WildCARD only.