Photo: Michael Henoch (left) receives the Theodore Thomas Medallion from Chicago Symphony Orchestra Music Director Riccardo Muti. Photo by Todd Rosenberg.
Michael Henoch '71, '72 MMus, adjunct associate professor of oboe at the Bienen School of Music, was awarded the Theodore Thomas Medallion for Distinguished Service from the Chicago Symphony Orchestra in recognition of his 50 years of service to the orchestra. Upon his retirement, Henoch was the longest-serving musician appointed by Sir Georg Solti and the longest-serving member of the oboe section.
The Theodore Thomas Medallion, named after the founder and first music director of the Chicago Symphony Orchestra, is historically presented to all retiring members of the CSO. Six other CSO musicians received the medallion this year.
"It has been the honor of a lifetime to have been a member of this great orchestra," said Henoch in a CSO press release. "In fact, I can think of no greater honor that any musician could experience, than to have spent 50 years making music with the greatest musicians in the world. I'm so grateful for this opportunity and have been continuously inspired by the members of the Chicago Symphony Orchestra. I admire their extraordinary dedication and artistry, as well as their commitment to sharing great music with our audiences in Chicago and around the world."
Henoch first performed with the CSO as a guest musician in 1971, when he traveled with the orchestra on its first European tour. He was appointed assistant principal oboe in 1972 while a student at Northwestern University, where he earned his bachelor's and master's degrees in music. While at Northwestern, Henoch studied with Ray Still, former principal oboe of the CSO, and served as a member of the Lyric Opera of Chicago Orchestra for three years.
Henoch has performed under three CSO music directors (Sir Georg Solti, Daniel Barenboim, and Riccardo Muti), as well as principal guest conductor Pierre Boulez and principal conductor Bernard Haitink. His solo appearances with the orchestra include 1988 performances of Haydn's Sinfonia Concertante led by Sir Georg Solti and 1996 performances of J.S. Bach's Concerto for Oboe and Violin with violinist Maxim Vengerov and Daniel Barenboim on harpsichord, as well as a 2003 performance of Mozart's Sinfonia Concertante with conductor Peter Oundjian at Ravinia. He has also performed as principal oboe on more than 50 of the CSO's recordings, many of them Grammy Award winners.
In 1996, Henoch was named artistic codirector of the Chicago Chamber Musicians (CCM), an ensemble with which he has performed since its inception in 1986. Henoch is credited with the idea for CCM's highly successful Music at the Millennium series, which celebrated 20th-century music in concerts at Chicago's Museum of Contemporary Art presented each May from 1998 through 2002. In the development of this festival, he worked closely with Pierre Boulez, who served as music advisor. In 2008, Henoch founded Dempster St. Pro Musica, an ensemble dedicated to presenting chamber music concerts of the highest quality in a casual atmosphere.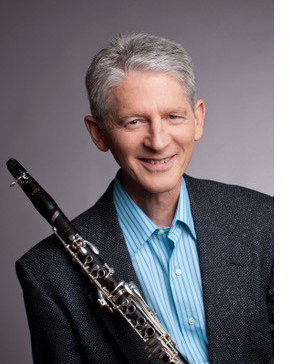 Longtime former Bienen School faculty member J. Lawrie Bloom also received the Theodore Thomas Medallion this year, having retired at the conclusion of the 2019-20 season. A member of the CSO clarinet section since 1980, Bloom appeared with the CSO as soloist on three occasions. He previously held appointments with the Phoenix Symphony, Lyric Opera of Chicago, Vancouver Symphony Orchestra, and the Cincinnati Symphony Orchestra. Bloom is founder and artistic codirector of the Chesapeake Music Festival and a founding member of the Chicago-based chamber music group Civitas Ensemble.