Bienen Ensembles
Northwestern University Jazz Orchestra
Neo-Bop: The Young Lions Movement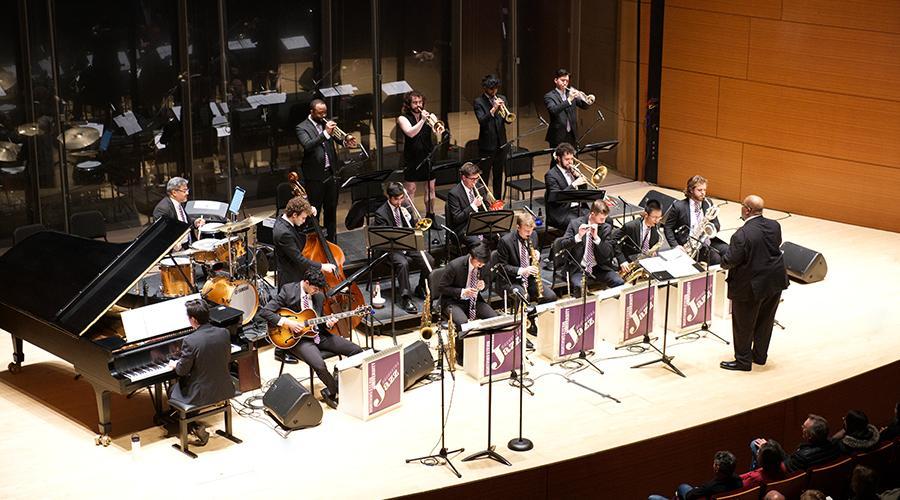 Thursday, November 30, 2023 at 7:30pm CST
Galvin Recital Hall
Derrick Gardner, conductor
At the close of the 1970s, the conversation around the future of jazz was contentious. Miles Davis had gone electric, Herbie Hancock was embracing early hip-hop, fusion was incorporating rock elements, and jazz was branching away from tradition. In the 1980s, a group of young, talented musicians signaled a return to the foundations of jazz, playing bebop, classic swing, and music from the Great American Songbook. These "Young Lions"—including such artists as Wynton Marsalis, Terence Blanchard, Donald Harrison, Kevin Eubanks, and Wallace Roney—advocated for the elevation of jazz to "fine art" status, paving the way for the Jazz at Lincoln Center program. Enjoy selections from the artists whose work heralded a new direction for the genre.
Donald Brown (arr. Bill Mobley), New York
Mulgrew Miller (arr. Bill Mobley), Return Trip
Derrick Earl Gardner, Just a Touch
Terence Blanchard, Lil' Fawdy
Victor Lewis (arr. David Sharp), Hey, It's Me You're Talking To
Mulgrew Miller (arr. Bill Mobley), Second Thoughts
Donald Brown (arr. Bill Mobley), Biscuit Man
Jimmy Greene (arr. Derrick Earl Gardner), Bloomfield
View Live Stream
Tickets are $8 for the general public and $5 for students with valid ID.
Sold Out
---
Mary B. Galvin Recital Hall
Address
70 Arts Circle Drive
Evanston, IL 60208
United States
About
Located in the Ryan Center for the Musical Arts, this 400-seat hall features a 40-foot glass wall offering views of Lake Michigan and the Chicago skyline. Undulating walls of Forest Stewardship Council–certified wood, covered with a thin layer of African moabi wood, provide optimal acoustics, and the hall is equipped with state-of-the-art sound and video equipment for recording.