Bienen Ensembles
Northwestern University Jazz Orchestra
The Blues with Sophistication—Count Basie Meets Thad Jones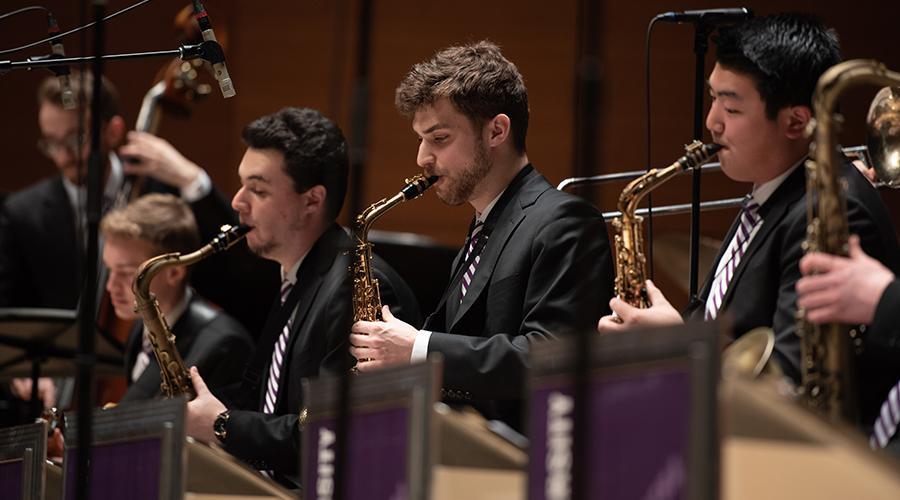 Tuesday, February 18, 2020 at 7:30pm
Galvin Recital Hall
Darius Hampton, conductor

The Count Basie Orchestra is undeniably the most swingin', blues-infused ensemble in the history of jazz. Throughout the Count's career, he and his band members performed music that defined the meaning of swing and the blues. Thad Jones, a former member of the Count Basie Orchestra, combined sophisticated orchestrations with the blues and created a new sound that is still uniquely identifiable with him today. This concert celebrates the blues and sophistication, two of the ingredients that make jazz a great American art form.
William "Count" Basie and Eddie Durham (trans. Myles Collins), "Jumpin' at the Woodside"
Frank Foster, "Blues in Hoss' Flat"
Kay Swift/Paul James (arr. Thad Jones), "Can't We Be Friends?"
Freddie Green (arr. Ernie Wilkins, trans. Myles Collins), "Corner Pocket"
Thad Jones, "To You"
Neal Hefti, "Whirly Bird"
Jerome Richardson (arr. Thad Jones), "Groove Merchant"
Sammy Nestico, "The Queen Bee"
Thad Jones, "Tiptoe"
Thad Jones, "Kids Are Pretty People"
Vernon Duke/Edgar "Yip" Harburg (arr. William "Wild Bill" Davis, trans. Jeff Hest), "April in Paris"
Thad Jones, "Cherry Juice"
Tickets are $6 for the general public and $4 for students with valid ID.
Sold Out
---
Mary B. Galvin Recital Hall
Address
70 Arts Circle Drive
Evanston, IL 60208
United States
About
Located in the Ryan Center for the Musical Arts, this 400-seat hall features a 40-foot glass wall offering views of Lake Michigan and the Chicago skyline. Undulating walls of Forest Stewardship Council–certified wood, covered with a thin layer of African moabi wood, provide optimal acoustics, and the hall is equipped with state-of-the-art sound and video equipment for recording.