Bienen Ensembles
Trombone Choir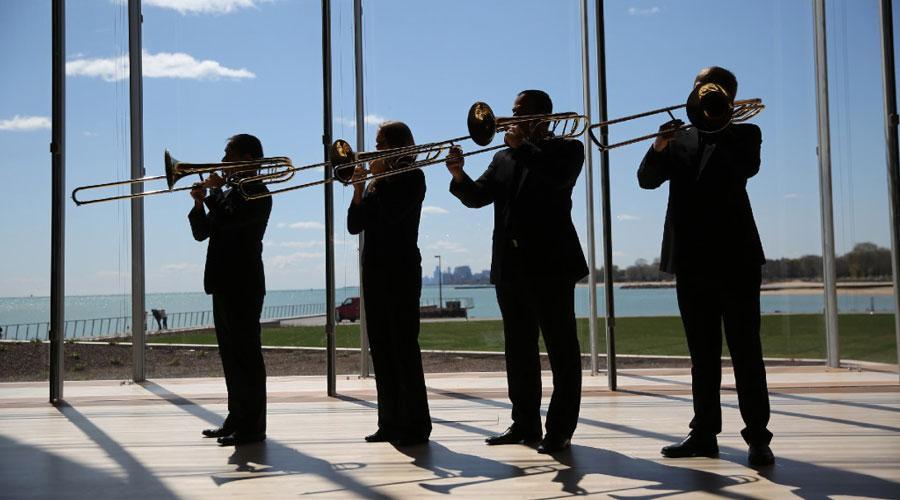 Wednesday, May 29, 2019 at 7:30pm
Galvin Recital Hall
Christopher P. Davis, director
Music written and arranged for trombones.
Giovanni Gabrieli (arr. Alex Cauthen), Canzon primi toni
J. S. Bach (arr. Alwyn Green), Prelude and Fugue, BWV 558
Ludwig van Beethoven (arr. Jim Nova), Symphony No. 7, mvmt. II
Richard Wagner (arr. Erick Shinn), "Entry of the Guests," March from Tannhauser
Gustav Holst (arr. D. Parker), "Fantasia on the Dargason" from Suite in F
Igor Stravinsky (arr. Steven Verhelst), Firebird Suite
Tickets are $6 for the general public and $4 for students with valid ID.
Sold Out
---
Mary B. Galvin Recital Hall
Address
70 Arts Circle Drive
Evanston, IL 60208
United States
About
Located in the Ryan Center for the Musical Arts, this 400-seat hall features a 40-foot glass wall offering views of Lake Michigan and the Chicago skyline. Undulating walls of Forest Stewardship Council–certified wood, covered with a thin layer of African moabi wood, provide optimal acoustics, and the hall is equipped with state-of-the-art sound and video equipment for recording.