Bienen Ensembles
Symphonic Wind Ensemble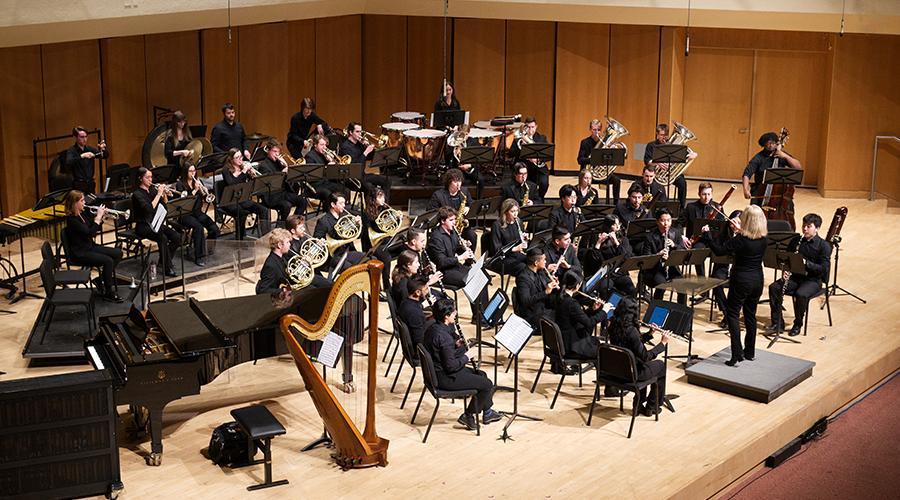 Friday, November 10, 2023 at 7:30pm CST
Pick-Staiger Concert Hall
Mallory Thompson, conductor
The ensemble's second concert of the fall quarter is centered around themes of loss, grief, and spirituality. Carlos Simon's Go Down Moses, inspired by the spiritual of the same name, depicts the Biblical story of Moses and the ten plagues from the perspective of the despairing Pharaoh. Dream Elegy, composed by new Bienen School dean Jonathan Bailey Holland, is a somber response to the Black Lives Matter movement, dedicated to those who felt powerless against the system that allowed racist acts of violence to occur. Commissioned by the Los Angeles Philharmonic and Esa-Pekka Salonen and transcribed from the original works by Henry Purcell, Steven Stucky's Funeral Music for Queen Mary is a haunting mix of Baroque and contemporary sounds. The concert closes with Olivier Messiaen's massive commemoration of the dead of both world wars, Et exspecto resurrectionem mortuorum.
Carlos Simon, Go Down Moses
Jonathan Bailey Holland, Dream Elegy
Steven Stucky, Funeral Music for Queen Mary
Olivier Messiaen, Et exspecto resurrectionem mortuorum
Tickets are $8 for the general public and $5 for students with valid ID.
Sold Out
---
Pick-Staiger Concert Hall
Address
50 Arts Cir Dr
Evanston, IL 60208
United States
About
Pick-Staiger is a 972-seat hall located in the Arts Circle on the Evanston campus of Northwestern University. The main lobby entrance for concerts is on the west side of the building (revolving and regular doors). Since its inception in 1975, the hall has functioned as both a classroom and performance facility for Bienen School of Music performing ensembles, faculty recitals, festivals, and professional guest artists.