Bienen Ensembles
Symphonic Band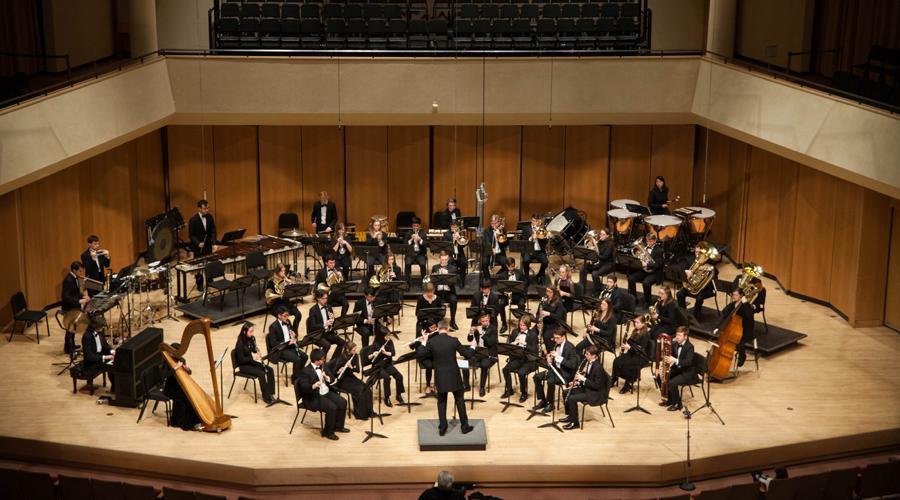 Friday, December 7, 2018 at 7:30pm
Pick-Staiger Concert Hall
Shawn Vondran, conductor

Celebrating the 100th birthday of American composer and conductor Leonard Bernstein, the Symphonic Band performs his boisterous Candide Overture and a suite from his groundbreaking Mass. The program also includes a band transcription of Edward Elgar's Enigma Variations.
Brian Balmages, Fanfare Canzonique
Leonard Bernstein (arr. Michael Sweeney), Suite from Mass
Leonard Bernstein (trans. Clare Grundman), Overture to Candide
David Maslanka, Mother Earth
Edward Elgar (arr. Earl Slocum and Alfred Reed), Enigma Variations, Op. 36
Tickets are $6 for the general public and $4 for students with valid ID.
Sold Out
---
Pick-Staiger Concert Hall
Address
50 Arts Cir Dr
Evanston, IL 60208
United States
About
Pick-Staiger is a 989-seat hall located in the Arts Circle on the Evanston campus of Northwestern University. The main lobby entrance for concerts is on the west side of the building (revolving and regular doors). Since its inception in 1975, the hall has functioned as both a classroom and performance facility for Bienen School of Music performing ensembles, faculty recitals, festivals, and professional guest artists.