Bienen Ensembles
Saxophone Ensemble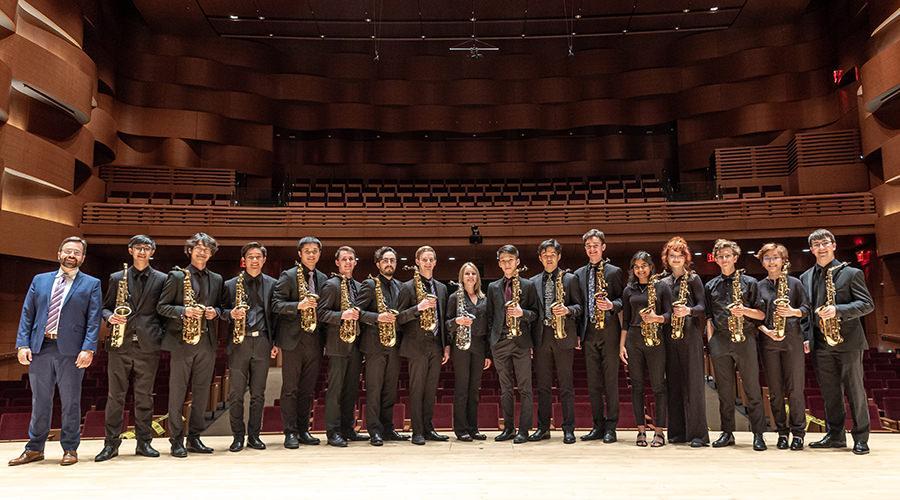 Friday, May 27, 2022 at 7:30pm CDT
Galvin Recital Hall
Taimur Sullivan, director
The Northwestern University Saxophone Ensemble presents a concert of new works that highlight the richness and excitement of the saxophone. The program features a world premiere by Steven Banks (MM '17), a regional premiere by Augusta Read Thomas ('87), and new arrangements by Cassie Wieland and Northwestern composition faculty member Hans Thomalla. The concert will also showcase the talents of two Northwestern saxophone quartets, Conflux and Masso.
J. S. Bach, III. Presto from Italian Concerto, BWV 971
Traditional (arr. Joel Love), A Welsh Lullaby/Suo Gân
Carlos Oliver Simon, An Elegy: A Cry from the Grave
Michael Daugherty, Steamboat
Augusta Read Thomas, Rings of Light (Dedicated to the Northwestern University Saxophone Ensemble)
Cassie Wieland, Eyelid (Concert premiere of the version for saxophone ensemble)
Hans Thomalla, Albumblatt II (Premiere of the version for saxophone ensemble)
Steven Banks, Strength to Climb (world premiere)
Tickets are $6 for the general public and $4 for student with valid ID.
Sold Out
---
Mary B. Galvin Recital Hall
Address
70 Arts Circle Drive
Evanston, IL 60208
United States
About
Located in the Ryan Center for the Musical Arts, this 400-seat hall features a 40-foot glass wall offering views of Lake Michigan and the Chicago skyline. Undulating walls of Forest Stewardship Council–certified wood, covered with a thin layer of African moabi wood, provide optimal acoustics, and the hall is equipped with state-of-the-art sound and video equipment for recording.