Bienen Ensembles
Northwestern University Symphony Orchestra and Choirs
American Explorer II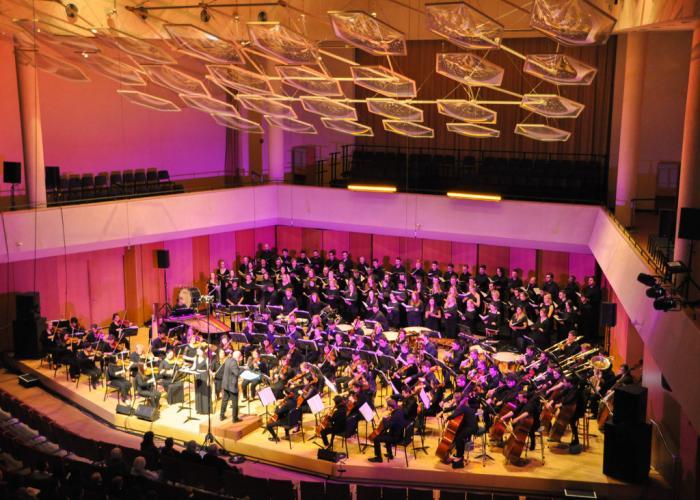 Saturday, April 27, 2019 at 7:30pm
Pick-Staiger Concert Hall
Preconcert Talk with the Composers, 6:30 p.m., McClintock Choral and Recital Room
Donald Nally, conductor; University Chorale; Bienen Contemporary/Early Vocal Ensemble

The Bienen Contemporary/Early Vocal Ensemble, University Chorale, and Northwestern University Symphony Orchestra present the Midwest premieres of two works with origins in Brooklyn. David T. Little's Am I Born is inspired by Francis Guy's painting Winter Scene in Brooklyn and draws on Charles Wesley's hymn Idumea to create a dialogue between soprano and choir that asks, "Am I born to die?" Judd Greenstein's My City celebrates Walt Whitman's 200th birthday in a cosmopolitan romp combining his iconic poems "Mannahatta" and "Crossing Brooklyn Ferry." In Greenstein's hands, both poetry and music capture the present and imagine the future with an enviable exuberance of extraordinary energy.
Tickets are $12 for the general public and $6 for students with valid ID.
Sold Out
---
Pick-Staiger Concert Hall
Address
50 Arts Cir Dr
Evanston, IL 60208
United States
About
Pick-Staiger is a 989-seat hall located in the Arts Circle on the Evanston campus of Northwestern University. The main lobby entrance for concerts is on the west side of the building (revolving and regular doors). Since its inception in 1975, the hall has functioned as both a classroom and performance facility for Bienen School of Music performing ensembles, faculty recitals, festivals, and professional guest artists.