Bienen Ensembles
Northwestern University Jazz Orchestra
What Is Swing?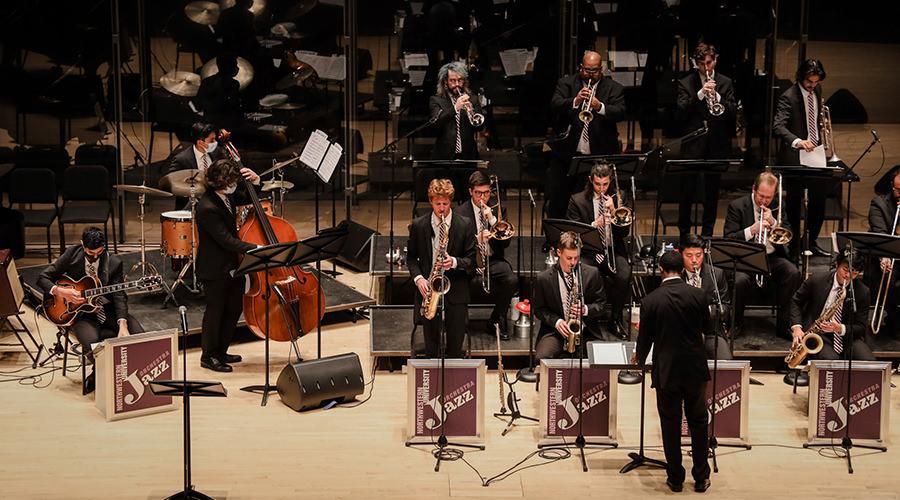 Tuesday, May 3, 2022 at 7:30pm
Galvin Recital Hall
Victor Goines and Darius Hampton, conductors
Swing can be defined as "willful participation, with style and coordination." This concert of original compositions by Northwestern jazz studies students will be just that: music created willfully, with styles beautifully coordinated in oneness.
Peter Hoerenz, Keystone
Mikey Ahearn, Some Other Day
Ikenna Eze, Iberico
Jesse Lear, Celeste
Shanth Gopalswamy, Tariq's Mountain
Albert Kuo, Storm Eyes
Sean Deegan, Puuurpura
Abram Collier, Forsaken
Darsan Swaroop Bellie, Reflections
Joseph Nedder, First Stop, 465
Tickets are $8 for the general public and $5 for students with valid ID.
Sold Out
---
Mary B. Galvin Recital Hall
Address
70 Arts Circle Drive
Evanston, IL 60208
United States
About
Located in the Ryan Center for the Musical Arts, this 400-seat hall features a 40-foot glass wall offering views of Lake Michigan and the Chicago skyline. Undulating walls of Forest Stewardship Council–certified wood, covered with a thin layer of African moabi wood, provide optimal acoustics, and the hall is equipped with state-of-the-art sound and video equipment for recording.