Bienen Ensembles
Northwestern University Jazz Orchestra
The Artistry of Bob Brookmeyer and Toshiko Akiyoshi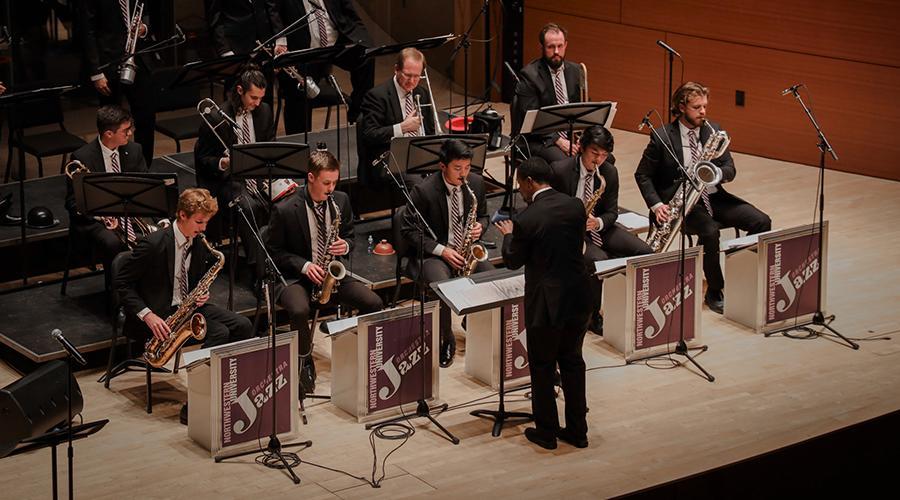 Tuesday, February 15, 2022 at 7:30pm
Galvin Recital Hall
Darius Hampton, conductor 
Bob Brookmeyer and Toshiko Akiyoshi were two "masters of the pen" who recognized the genius of their predecessors in jazz and classical music, and harnessed their creative techniques and skills to create works exploring music's elements of rhythm, harmony, melody, and texture. In this performance, jazz studies students share some of the Brookmeyer and Akiyoshi works that helped to solidify their reputations as master composers and arrangers. Selections will include Brookmeyer's ABC Blues, First Love Song, and Hello and Goodbye, and Akiyoshi's Road Time Shuffle, Transience, and My Elegy. Come celebrate their music, as performed by the Northwestern University Jazz Orchestra. 
Music of Toshiko Akiyoshi
Tuning Up
My Elegy
Transience
Warning!
Song for the Harvest
March of the Tadpoles
Music of Bob Brookmeyer
The American Express
Ding Dong Ding
ABC Blues
Make Me Smile
First Love Song
Hello and Goodbye
Free Event
---
Mary B. Galvin Recital Hall
Address
70 Arts Circle Drive
Evanston, IL 60208
United States
About
Located in the Ryan Center for the Musical Arts, this 400-seat hall features a 40-foot glass wall offering views of Lake Michigan and the Chicago skyline. Undulating walls of Forest Stewardship Council–certified wood, covered with a thin layer of African moabi wood, provide optimal acoustics, and the hall is equipped with state-of-the-art sound and video equipment for recording.