Bienen Ensembles
Northwestern University Jazz Orchestra
Here's the Real Swingin' Thing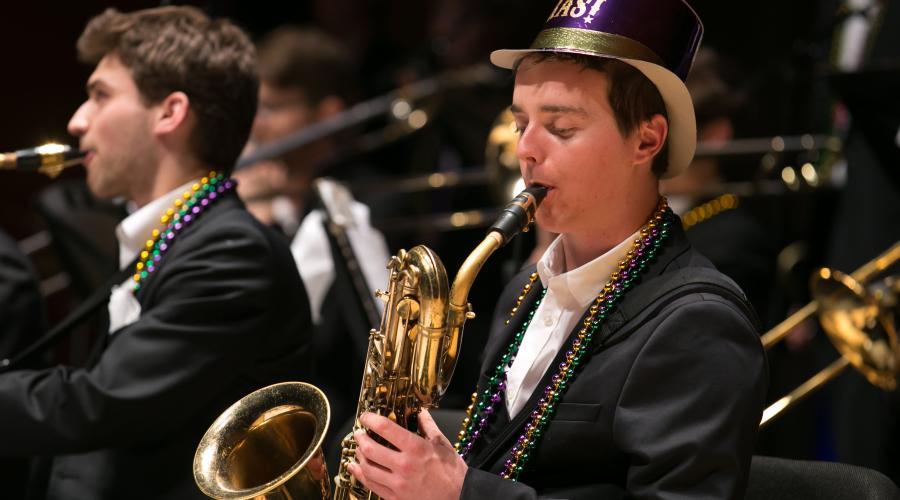 Thursday, May 9, 2019 at 7:30pm
Galvin Recital Hall
Jarrard Harris, conductor
Here's the real "swing": an evening of new compositions, concepts, and arrangements created for the Northwestern University Jazz Orchestra by jazz students. The synergy generated from these new works, combined with the talents of young performers, will put you in the groove and keep you there for the entire evening.
Caleb Eckstein, Mister Mac
Richard Rodgers (arr. Clayton Eshleman), "I Didn't Know What Time It Was"
Benny Benack III (arr. Louis Danowsky), Kiss Me Slowly
John Raymond Hubbell (arr. Tyler Santee), Poor Butterfly
Albert Kuo, Away
Austin Klewan, I'll Find It
Jonathan Rosen, Breakfast Blend
Emma Blau, 11E (Eleveny)
Jacob Galdes, Choppin' Block
Johnny Mandell (arr. George Estey), Summer Wishes, Winter Dreams
Sam Wolsk, Above Water
Tickets are $6 for the general public and $4 for students with valid ID.
Sold Out
---
Mary B. Galvin Recital Hall
Address
70 Arts Circle Drive
Evanston, IL 60208
United States
About
Located in the Ryan Center for the Musical Arts, this 400-seat hall features a 40-foot glass wall offering views of Lake Michigan and the Chicago skyline. Undulating walls of Forest Stewardship Council–certified wood, covered with a thin layer of African moabi wood, provide optimal acoustics, and the hall is equipped with state-of-the-art sound and video equipment for recording.