Bienen Ensembles
Northwestern University Jazz Orchestra
Happy-Go-Lucky Local: The Music of Duke Ellington and His Orchestra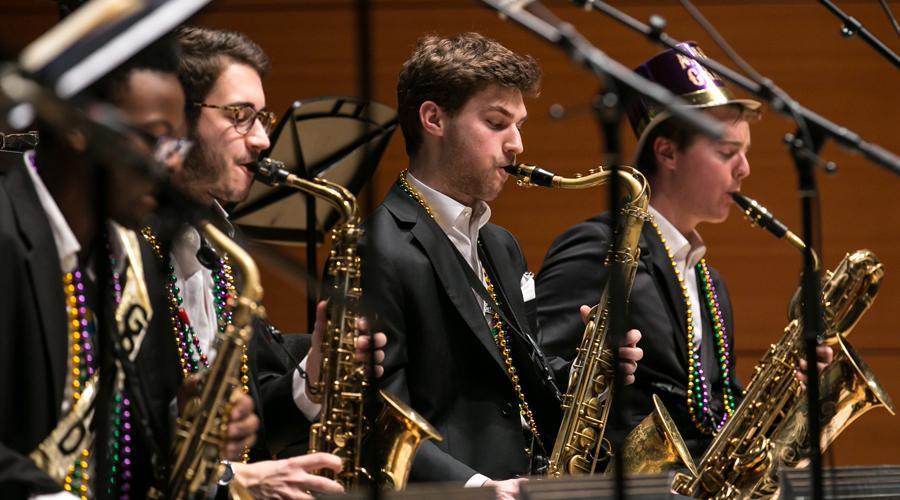 Thursday, November 8, 2018 at 7:30pm
Galvin Recital Hall
Jarrard Harris, conductor
Duke Ellington is considered the most prolific composer in the history of jazz, and his orchestra was one of the most documented of all jazz ensembles. Because he traveled by rail throughout his performing career, Ellington developed a great affection for trains and incorporated their onomatopoeia into many of his compositions. Come "Take the 'A' Train" with "Jack the Bear" on "The Happy-Go-Lucky Local" as the Jazz Orchestra celebrates Ellington, his orchestra, and their music. Their program features selections from Ellington's Deep South Suite; Black, Brown, and Beige; Such Sweet Thunder; Latin American Suite; Far East Suite; New Orleans Suite and more.
Tickets are $6 for the general public and $4 for students with valid ID.
Sold Out
---
Mary B. Galvin Recital Hall
Address
70 Arts Circle Drive
Evanston, IL 60208
United States
About
Located in the Ryan Center for the Musical Arts, this 400-seat hall features a 40-foot glass wall offering views of Lake Michigan and the Chicago skyline. Undulating walls of Forest Stewardship Council–certified wood, covered with a thin layer of African moabi wood, provide optimal acoustics, and the hall is equipped with state-of-the-art sound and video equipment for recording.