Bienen Ensembles
Marimba Concert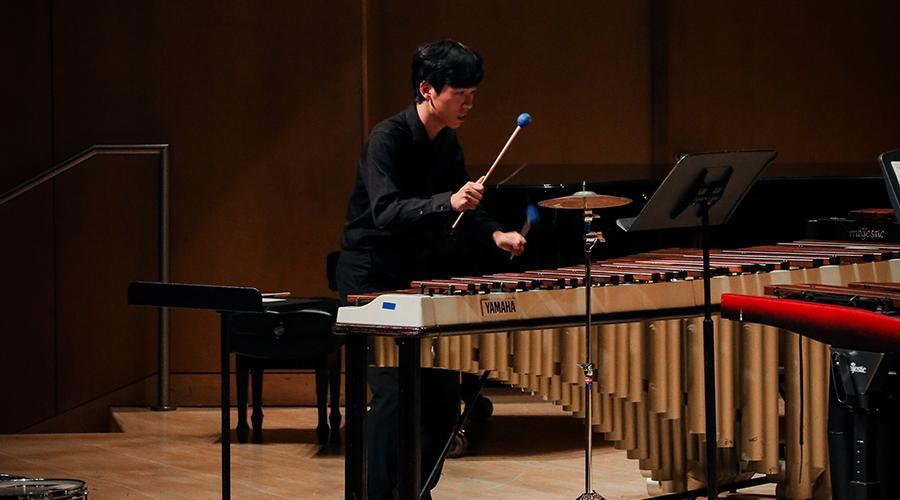 Monday, November 20, 2023 at 7:30pm CST
Galvin Recital Hall
She-e Wu, director
An evening of music spotlighting the distinctive sonic palette of the marimba.
View Live Stream
Tickets are $6 for the general public and $4 for students with valid ID.
Sold Out
Program
J. S. Bach, Cello Suite No. 1 in G Major
     Prelude
     Sarabande
     Allemande
Jacob Druckman, Reflections on the Nature of Water
     IV. Gently Swelling
Akira Miyoshi, Torse III
     I. Thèse
     III. Commentaire
Niccolò Paganini (arr. Anders Eltern), Caprice No. 24 in E-flat Major
Michael Burritt, Scirocco
Peter Klatzow, Dances of Earth and Fire
     II.
Paul Lansky, Idle Fancies
     I. Laughing Matter
Toshi Ichiyanagi, The Source
     II.
J. S. Bach, Cello Suite No. 3 in C Major, BWV 1009
     Prelude
Alejandro Viñao, Khan Variations
Gunther Schuller, Marimbology
     IV.
Paul Lansky, Three Moves for Marimba
     III. Slide
Andrew Thomas, Merlin
     II. Time's Way
Nebojsa Zivkovic, Fluctus
J. S. Bach, Violin Sonata No. 1 in G Minor (BWV 1001)
     Fuga
Arnold Marinissen, Totem
     I.
Show More
---
Mary B. Galvin Recital Hall
Address
70 Arts Circle Drive
Evanston, IL 60208
United States
About
Located in the Ryan Center for the Musical Arts, this 400-seat hall features a 40-foot glass wall offering views of Lake Michigan and the Chicago skyline. Undulating walls of Forest Stewardship Council–certified wood, covered with a thin layer of African moabi wood, provide optimal acoustics, and the hall is equipped with state-of-the-art sound and video equipment for recording.