Bienen Ensembles
Jazz Small Ensembles
Composition 1301: Plus de Nouvelles Musiques, Part III—Student Originals for Jazz Small Ensemble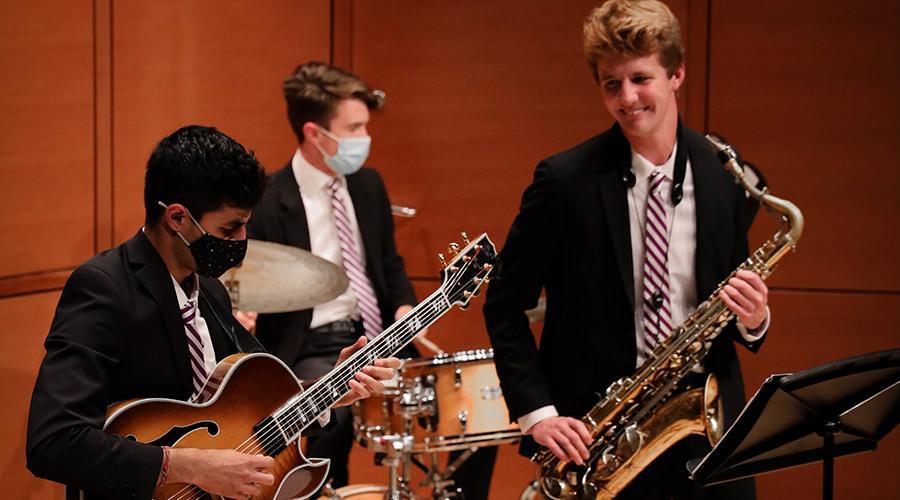 Monday, May 16, 2022 at 7:30pm
McClintock Choral and Recital Room
Darius Hampton and Victor Goines, conductors
Northwestern jazz studies students premiere their latest compositions in the final jazz concert of the academic year. The program features blues and ballads, swinging and grooving, and syncopation and improvisation: a concert representing what jazz is all about!
Tickets are $6 for the general public and $4 for students with valid ID.
Sold Out
---
Selections by the Kevin Fort Ensemble
Daniel McGrath, trumpet and flugelhorn; Kevin Fort, conductor and piano; Alex Carroll and Nick Landon, bass 
Daniel McGrath, Thinker's Tangent 
Kevin Fort, Deceptive 
Nick Landon, Overthinking at 3 AM 
Alex Carroll, Tying Times 
Show More
Selections by the Victor Goines Ensemble
Victor Goines, conductor; Mikey Ahearn, trumpet and flugelhorn; Albert Kuo, alto and soprano saxophones, flute; Joe Nedder, trombone; Peter Hoerenz, piano; Jesse Lear, bass; Darsan Swaroop Bellie, drums 
Joe Nedder, Peekaboo Skies 
Darsan Swaroop Bellie, Clearview 
Mikey Ahearn, Sophie 
Jesse Lear, Fiesta 
Albert Kuo, Away 
Peter Hoerenz, See You Soon 
Show More
---
David and Carol McClintock Choral and Recital Room
Address
70 Arts Circle Drive
Evanston, IL 60208
United States
About
Located in the Patrick G. and Shirley W. Ryan Center for the Musical Arts, this rooms seats 120 and offers a flexible space for choral rehearsals, small ensemble performances, and student recitals.