Bienen Ensembles
Jazz Small Ensembles
The Music of George Wein's Young Lions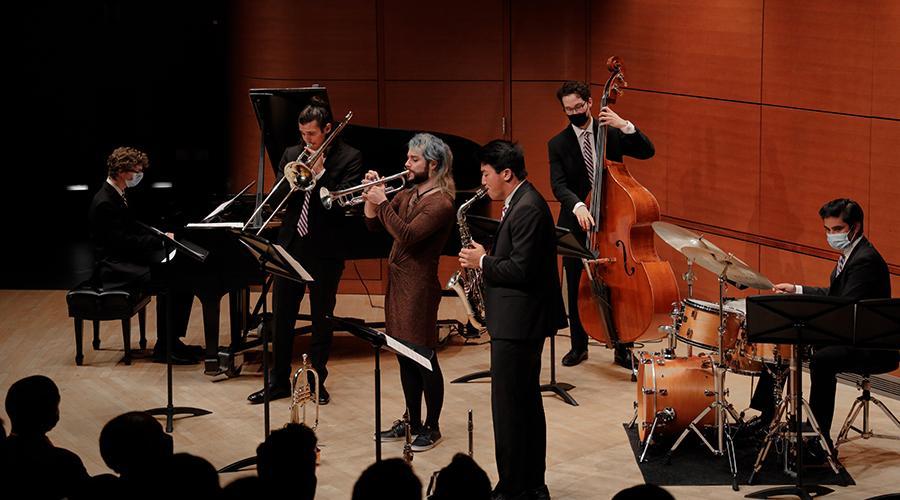 Monday, January 31, 2022 at 7:30pm
McClintock Choral and Recital Room
Darius Hampton and Kevin Fort, conductors 
Arguably one of the greatest promoters of jazz festivals and music around the world, George Wein left a mark on jazz history via the young artists known as "young lions." Throughout his life as a promoter, he used his vision to identify the finest young musicians in jazz and present their talents for the world to hear and enjoy. In the 1980s and 1990s, that roll call of young lions included such future jazz greats as Wynton Marsalis, Branford Marsalis, Terence Blanchard, Roy Hargrove, Philip Harper, Christian McBride, Benny Green, and many more. This concert celebrates the late George Wein and focuses on the music created by his lions, via new arrangements for small jazz ensemble prepared by Northwestern jazz studies students.
Free Event
---
David and Carol McClintock Choral and Recital Room
Address
70 Arts Circle Drive
Evanston, IL 60208
United States
About
Located in the Patrick G. and Shirley W. Ryan Center for the Musical Arts, this rooms seats 120 and offers a flexible space for choral rehearsals, small ensemble performances, and student recitals.