Festivals & Series
Contemporary Music Ensemble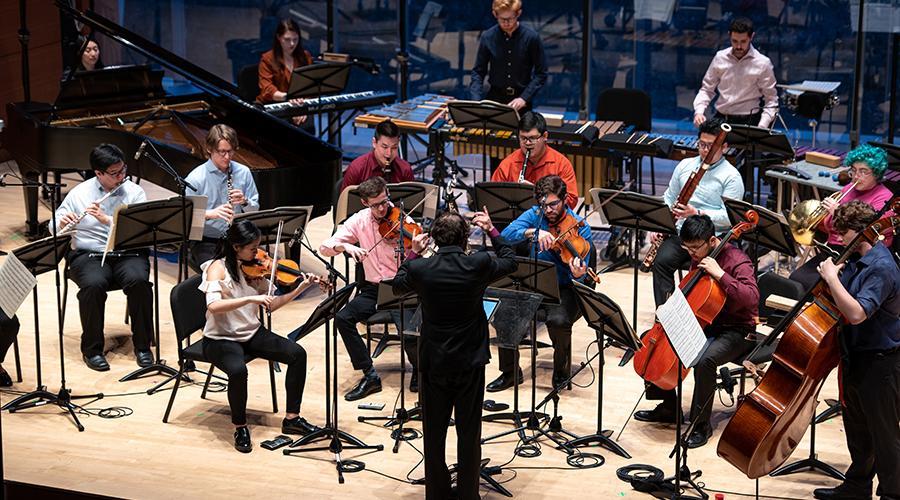 Thursday, February 6, 2020 at 7:30pm CST
Pick-Staiger Concert Hall
Alan Pierson and Ben Bolter, conductors

Conductor Ben Bolter premiered Drew Baker's Nox at Chicago's 2016 Ear Taxi Festival. Taking its title from poet Anne Carson's elegiac book, Nox uses spatial arrangement to connect seemingly opposing ideas and sounds, surrounding the audience with four groups of performers for an immersive sound experience. Hans Abrahamsen's Schnee, completed in 2008, was inspired by the Hans Christian Andersen tale "The Snow Queen" and the canons of J. S. Bach. With its delicate textures and evocative instrumentation, Schnee evokes a wintry landscape covered in fresh snowfall.
Tickets are $6 for the general public and $4 for students with valid ID.
Sold Out
---
Pick-Staiger Concert Hall
Address
50 Arts Cir Dr
Evanston, IL 60208
United States
About
Pick-Staiger is a 972-seat hall located in the Arts Circle on the Evanston campus of Northwestern University. The main lobby entrance for concerts is on the west side of the building (revolving and regular doors). Since its inception in 1975, the hall has functioned as both a classroom and performance facility for Bienen School of Music performing ensembles, faculty recitals, festivals, and professional guest artists.