Bienen Ensembles
Contemporary Music Ensemble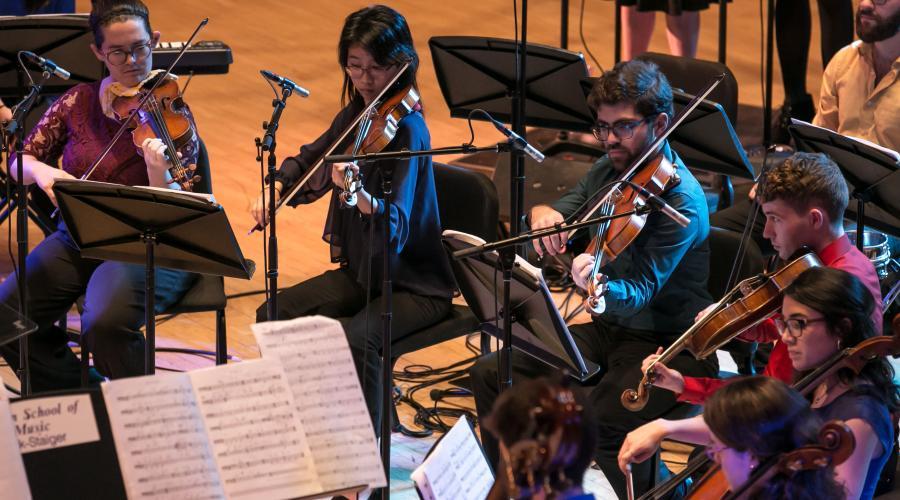 Friday, May 24, 2019 at 7:30pm
Galvin Recital Hall
Alan Pierson, Ben Bolter, and Victor Huls, conductors

Philip Glass, Music in Similar Motion
Giacinto Scelsi, Pranam II
George Papajohn, Catechumen
Aphex Twin (arr. Stefan Freund), Cock, Ver. 10
Aphex Twin (arr. Ken Thomson), Gwely Mernans
Aphex Twin (arr. Evan Hause), Omgyjya Switch

Tickets are $6 for the general public and $4 for students with valid ID.
Sold Out
---
A note from conductor Alan Pierson
It's incredibly exciting for students to tackle these Aphex Twin tracks. Aphex is a brilliant creator of incredibly complex electronic music, and it's music that wasn't ever meant for humans to play. The demands upon musicians to realize these sounds live—both in terms of the sounds they have to make and the virtuosity of executing them at these high speeds and with the required level of exactitude—are extreme. It's incredibly exciting to watch.

The Glass and Scelsi pieces are two very different visions from two very different composers, from around 1970, of a kind of stripped-down music. Glass's work is a major early statement in American minimalism, and the Italian composer Scelsi was developing this very organic, fluid, breath-oriented approach to music built out of single notes.
Show More
---
Mary B. Galvin Recital Hall
Address
70 Arts Circle Drive
Evanston, IL 60208
United States
About
Located in the Ryan Center for the Musical Arts, this 400-seat hall features a 40-foot glass wall offering views of Lake Michigan and the Chicago skyline. Undulating walls of Forest Stewardship Council–certified wood, covered with a thin layer of African moabi wood, provide optimal acoustics, and the hall is equipped with state-of-the-art sound and video equipment for recording.