Bienen Ensembles
Contemporary Music Ensemble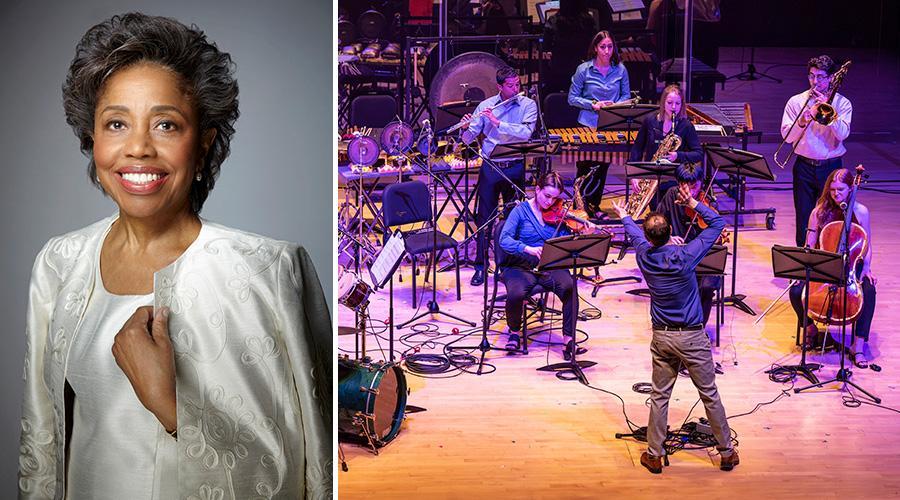 Wednesday, October 18, 2023 at 7:30pm CDT
Galvin Recital Hall
Ben Bolter, conductor; Tania León, guest composer and 2023 winner of the Michael Ludwig Nemmers Prize in Music Composition
The Contemporary Music Ensemble welcomes composer Tania León to the Bienen School with the sprightly rhythms of her work Toque, inspired by the Cuban dance tune "Almendra." The program also features Sam Pluta's Actuate/Resonate, in which the ensemble becomes (in the composer's words) "a giant synthesized drum machine," as well as the world premiere of Elliott Lupp's I think my legs might be broken and Michael Gordon's propulsive Yo Shakespeare.
Tania León, Toque
Sam Pluta, Actuate/Resonate
Elliott Lupp, I think my legs might be broken (world premiere)
Michael Gordon, Yo Shakespeare
View Live Stream
Tickets are $8 for the general public and $5 for students with valid ID.
Buy Tickets
---
Mary B. Galvin Recital Hall
Address
70 Arts Circle Drive
Evanston, IL 60208
United States
About
Located in the Ryan Center for the Musical Arts, this 400-seat hall features a 40-foot glass wall offering views of Lake Michigan and the Chicago skyline. Undulating walls of Forest Stewardship Council–certified wood, covered with a thin layer of African moabi wood, provide optimal acoustics, and the hall is equipped with state-of-the-art sound and video equipment for recording.