Bienen Ensembles
University Singers
A Joyful Noise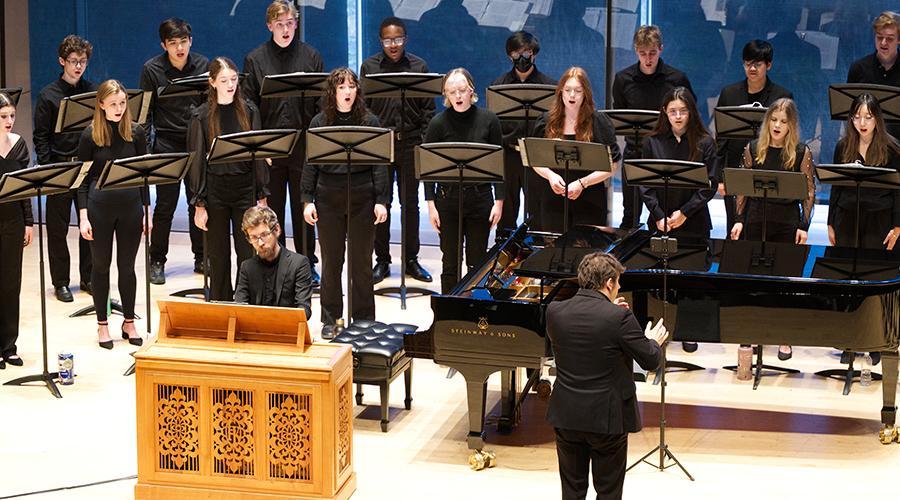 Sunday, November 12, 2023 at 5:00pm CST
Galvin Recital Hall
A. J. Keller, conductor; Charles Foster, collaborative piano
University Singers presents an uplifting concert program of works from a variety of styles and musical eras.
View Live Stream
Tickets are $6 for the general public and $4 for students with valid ID.
Sold Out
Program
George Frideric Handel, Let Thy Hand Be Strengthened, HWV 259
Orlando di Lasso, Jubilate Deo omnis terra, LV 854
Tomás Luis de Victoria, O magnum mysterium
Heinrich Schütz, Den Herren lobt mit Freuden, SWV 239
Healey Willan, Rise Up, My Love, My Fair One
Eleanor Daley, Upon Your Heart
Heinrich Schütz, Singet mit Freuden unserm Gott, SWV 178
William Billings, I Am the Rose of Sharon
Elaine Hagenberg, Deep Peace
William L. Dawson, Ain'-a That Good News!
Heinrich Schütz, Zu Lob und Ehr mit Freuden singt, SWV 252
Samuel Barber, Sure on this Shining Night, Op. 13, No. 3
Judith Weir, My Guardian Angel
Lissa Schneckenburger (arr. Andrea Ramsey), Hope Lingers On
Show More
---
Mary B. Galvin Recital Hall
Address
70 Arts Circle Drive
Evanston, IL 60208
United States
About
Located in the Ryan Center for the Musical Arts, this 400-seat hall features a 40-foot glass wall offering views of Lake Michigan and the Chicago skyline. Undulating walls of Forest Stewardship Council–certified wood, covered with a thin layer of African moabi wood, provide optimal acoustics, and the hall is equipped with state-of-the-art sound and video equipment for recording.