Bienen Ensembles
University Chorale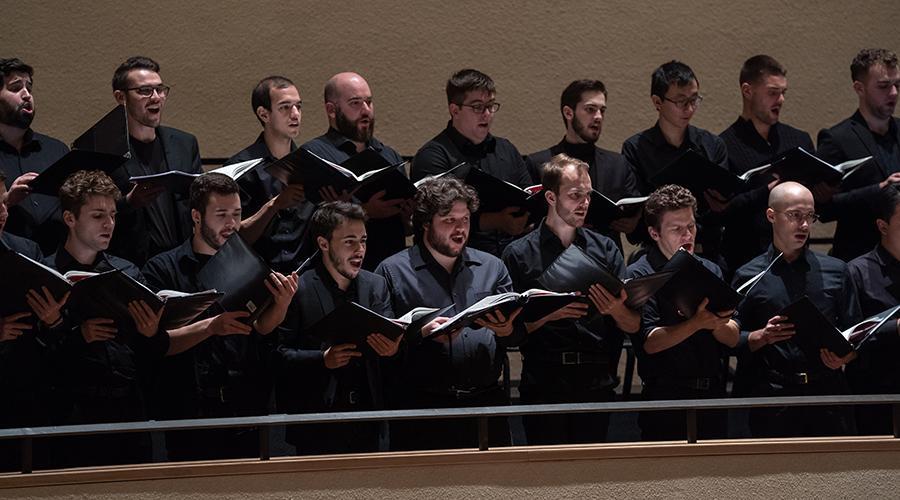 Saturday, March 7, 2020 at 6:00pm
Alice Millar Chapel
Donald Nally and Corey Everly, conductors; Charles Foster, accompanist; Scott Dettra, organ
The music of Herbert Howells continues to grow in stature as we view the 20th century from an ever-increasing distance. His extraordinary harmonic language and soaring, twisting melodic lines seem to imply there is something yet to come— an unresolved emotion. Performing his Te Deum Collegium Regale and the anthem "Thee Will I Love," University Chorale explores his music for choir and organ in its historical context alongside works by Ralph Vaughan Williams and Gerald Finzi. Nationally recognized organ virtuoso Scott Dettra joins the ensemble for this look at British sacred music.
Gerald Finzi, My lovely one
Herbert Howells, Te Deum (Collegium Royale)
Ralph Vaughan Williams, O taste and see
Ralph Vaughan Williams, He that is down need fear no fall
Herbert Howells, My eyes for beauty pine
Herbert Howells, Levavi oculos meos
Ralph Vaughan Williams, Lord, Thou hast been our refuge
Herbert Howells, Thee will I love
Free Event
---
Alice Millar Chapel
Address
1870 Sheridan Road
Evanston, IL 60208
United States
About
Completed in 1962, this venue houses two chapels: the 700-seat Millar Chapel and the 125-seat Vail Chapel. The Chapel hosts religious services, music performances, lectures, and other events.