Bienen Ensembles
Northwestern University Jazz Orchestra
Jazz Composers of the Midwest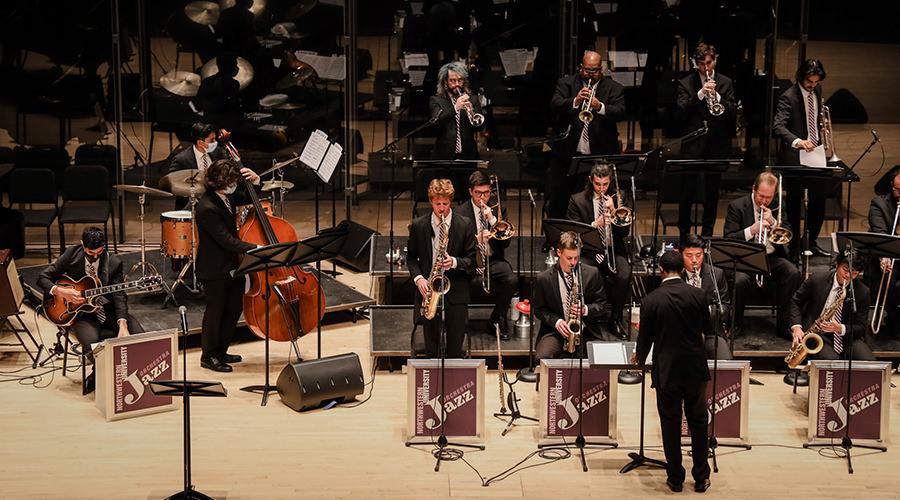 Tuesday, November 8, 2022 at 7:30pm
Galvin Recital Hall
Derrick Gardner and Darius Hampton, conductors
Join us as we celebrate and explore the music of jazz composers and arrangers of the Midwestern region of the US. These are some of the musicians that shaped the sounds of the classic big bands of Count Basie, Maynard Ferguson, Clark Terry's Big Bad Band, Ray Charles, Lionel Hampton, Illinois Jacquet, and many others. Many of these composers also wrote for the television and film industries of the 1960s and '70s. Their unique musical explorations continued to flourish as they went on to lead their own big bands, creating some of the greatest music of the 20th century. This concert will feature the music of Frank Foster, Thad Jones, Oliver Nelson, David Baker, Slide Hampton, Neil Hefty, Burgess Gardner, and Ernie Wilkins.
Oliver Nelson, 3, 2, 1, 0
Frank Foster, Shiny Stockings
Thad Jones, 61st and Rich'it
Thad Jones, To You
Neil Hefti, Splanky
Ernie Wilkins, Way Out Basie
Oliver Nelson, Hoe Down
David Baker, 4, 5, 6
Slide Hampton, Frame for the Blues
Derrick Gardner, One Thing Led to Another
Burgess Gardner, Laila Simone (Little Laila)
Frank Foster, Disapproachment
Tickets are $8 for the general public and $5 for students with valid ID.
Sold Out
---
Mary B. Galvin Recital Hall
Address
70 Arts Circle Drive
Evanston, IL 60208
United States
About
Located in the Ryan Center for the Musical Arts, this 400-seat hall features a 40-foot glass wall offering views of Lake Michigan and the Chicago skyline. Undulating walls of Forest Stewardship Council–certified wood, covered with a thin layer of African moabi wood, provide optimal acoustics, and the hall is equipped with state-of-the-art sound and video equipment for recording.