Festivals & Series
Mivos Quartet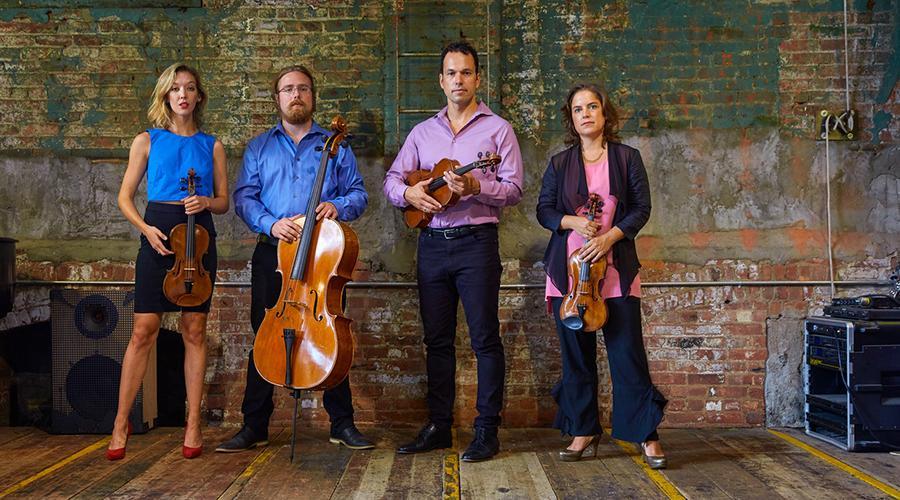 Thursday, May 2, 2019 at 7:30pm
McClintock Choral and Recital Room
Olivia De Prato and Lauren Cauley, violin; Victor Lowrie Tafoya, viola; Tyler J. Borden, cello
The Chicago Reader hails the Mivos Quartet as "one of America's most daring and ferocious new-music ensembles." Founded in 2008, the quartet is devoted to performing the music of contemporary composers and has appeared at such prestigious series and festivals as the New York Phil Biennial, Austria's Wien Modern, Germany's Darmstadt International Summer Courses, Shanghai New Music Week, Edgefest, and Aldeburgh Music. Recent collaborators have included poet-musician Saul Williams and composers Sam Pluta, Dan Blake, Mark Barden, George Lewis, and Kate Soper. The quartet conducts workshops worldwide and in 2016 released its second album, Garden of Diverging Paths. In this concert, the quartet performs new compositions by Bienen School students.
Free Event
---
David and Carol McClintock Choral and Recital Room
Address
70 Arts Circle Drive
Evanston, IL 60208
United States
About
Located in the Patrick G. and Shirley W. Ryan Center for the Musical Arts, this rooms seats 120 and offers a flexible space for choral rehearsals, small ensemble performances, and student recitals.