Bienen Ensembles
CANCELED: Bienen Contemporary/Early Vocal Ensemble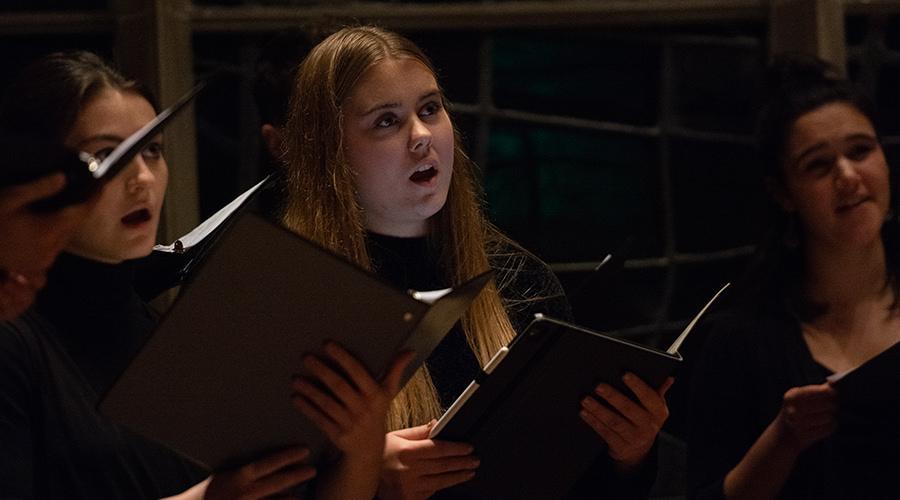 Sunday, May 31, 2020 at 5:00pm
Galvin Recital Hall
For the health and safety of the Bienen School community and our valued patrons, this event has been canceled.
Donald Nally, conductor; Brandon Acker, theorbo

The Bienen Contemporary/Early Vocal Ensemble gives an important US premiere from David Lang, who sets a letter from beloved Jewish scholar Rabbi Moses ben Nachman to his children after his exile from Spain in 1267. The work recalls Lang's mother's exile to Barcelona and eventually the US—stateless, because of her faith. Monteverdi's Sestina: Tears of a Lover at the Tomb of the Beloved is also born directly of personal experience: the death of a gifted young singer, "The Little Roman Girl," who lived with Monteverdi and his wife in Mantua. His musical response is the best of the great composer of the waning Renaissance and nascent Baroque: grueling, beautiful, thought-provoking, and universal.

David Lang, stateless
Claudio Monteverdi, Lagrime d'amante al sepolcro dell'amata
Tickets are $8 for the general public and $5 for students with valid ID.
---
Mary B. Galvin Recital Hall
Address
70 Arts Circle Drive
Evanston, IL 60208
United States
About
Located in the Ryan Center for the Musical Arts, this 400-seat hall features a 40-foot glass wall offering views of Lake Michigan and the Chicago skyline. Undulating walls of Forest Stewardship Council–certified wood, covered with a thin layer of African moabi wood, provide optimal acoustics, and the hall is equipped with state-of-the-art sound and video equipment for recording.