By Mary Buckingham
Choosing a graduate program can be a difficult decision for many people, but for first-year graduate student Sarah Zieba, the choice was clear. Zieba, a 2020 alumna of Northwestern and the Bienen School of Music, is currently pursuing a Master of Music degree in Voice and Opera Performance at the Bienen School. Even though her decision to stay at Bienen was straightforward, she made a much more difficult choice earlier in her Northwestern journey: pursuing music as a full-time career.
Zieba's time at Northwestern began in the fall of 2016 when she began studies for a dual degree in biochemistry and voice and opera. She enjoyed singing, but her ultimate goal was to go to medical school and become a doctor. "I thought that I would just use opera as a party trick, and that medical school was where I wanted to go, but I truly started to feel that music was my calling between my sophomore and junior year at Bienen."
For the next two summers, Zieba attended the Chautauqua Institution Voice Program, which turned out to be extremely influential on her decision to pursue her passion for music. She also credits her change of direction to the performance opportunities provided by the Bienen School and the supportive faculty at Northwestern.
"During my undergraduate studies, there were two things that inspired me to pursue opera instead of a career in the medical field. One of them was performing the role of Mrs. Grose in Britten's The Turn of the Screw. Preparing and having a chance to perform a principal role was an indescribable experience. As soon as I got up on stage to sing, I knew that I could do this for the rest of my life. My other inspiration was my biochemistry professor; he was the person who really pushed me in the direction of music. He made me realize that if I went to medical school first and didn't at least try to have a career in music, that I would always wonder if I should have taken a different path."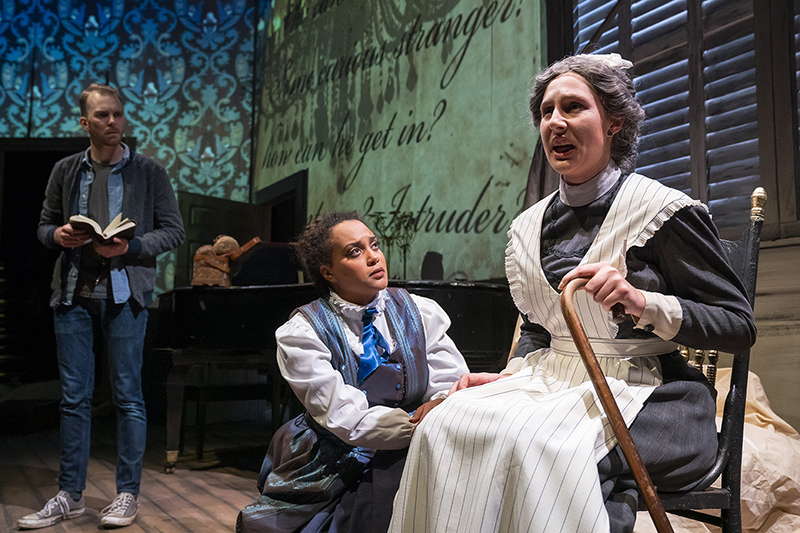 Sarah Zieba as Mrs. Grose (far right) in The Turn of the Screw. Photo by Todd Rosenberg. 
Zieba graduated with both of her undergraduate degrees and still loves biochemistry, but she ultimately decided to take the next steps toward building an opera career. After going through the application and audition process at several schools, she ultimately felt she would best be supported by staying at the Bienen School. "When I was making my decision, I was drawn to Bienen's small class sizes, huge number of performance opportunities, and the idea of continuing to work with the faculty—especially my teacher, Nancy Gustafson."
Zieba's story is an example of following one's heart and pursuing one's passion. After one quarter of graduate school completed, Zieba remains thrilled with her decision to pursue her passion for music and opera. It is a new experience for her to focus solely on music coursework, but with every project and performance, she knows her studies will prepare her for her future career in music.
Mary Buckingham is a master's voice and opera student at the Bienen School of Music.