Bienen Ensembles
University Singers
Music of Identity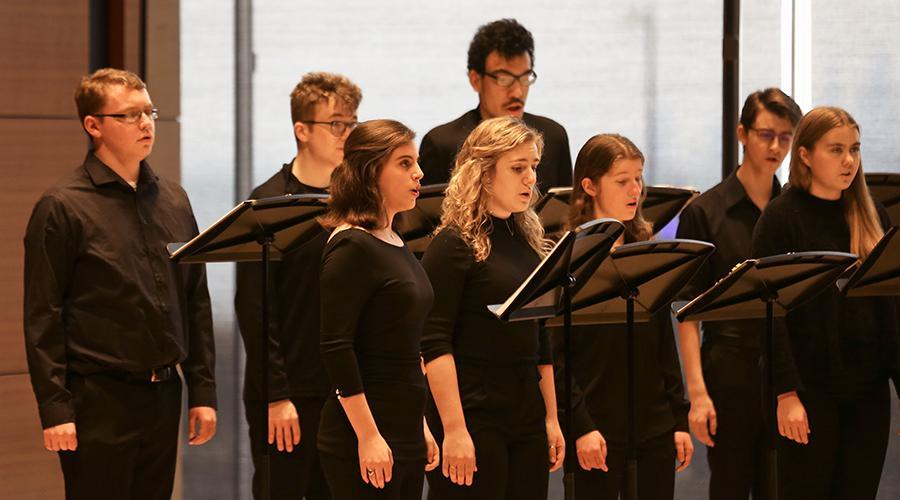 Saturday, November 16, 2019 at 7:30pm
Galvin Recital Hall
A. J. Keller, conductor; Jack Reeder, graduate assistant conductor; Charles Foster, accompanist
What makes a person an individual? Is it their position in one of the world's innumerable hierarchies? Is it the way they're depicted in the historical record? Is it the way they are assessed by the ones they love? Is identity static, or always in flux? University Singers provides an opportunity to reflect on these questions, through the music of a variety of composers and eras.
G. F. Handel, The King Shall Rejoice
Josquin des Prez, Liber generationis
Samuel Barber, selections from Reincarnations
Claudio Monteverdi, selections from the Fourth and Fifth Books of Madrigals
Antonio Lotti, Miserere mei
Timothy C. Takach, Joseph
Urmas Sisak, Heliseb Väljadel
Eriks Esenvalds, Only in Sleep
Tickets are $6 for the general public and $4 for students with valid ID.
Sold Out
---
Mary B. Galvin Recital Hall
Address
70 Arts Circle Drive
Evanston, IL 60208
United States
About
Located in the Ryan Center for the Musical Arts, this 400-seat hall features a 40-foot glass wall offering views of Lake Michigan and the Chicago skyline. Undulating walls of Forest Stewardship Council–certified wood, covered with a thin layer of African moabi wood, provide optimal acoustics, and the hall is equipped with state-of-the-art sound and video equipment for recording.