Bienen Ensembles
Symphonic Wind Ensemble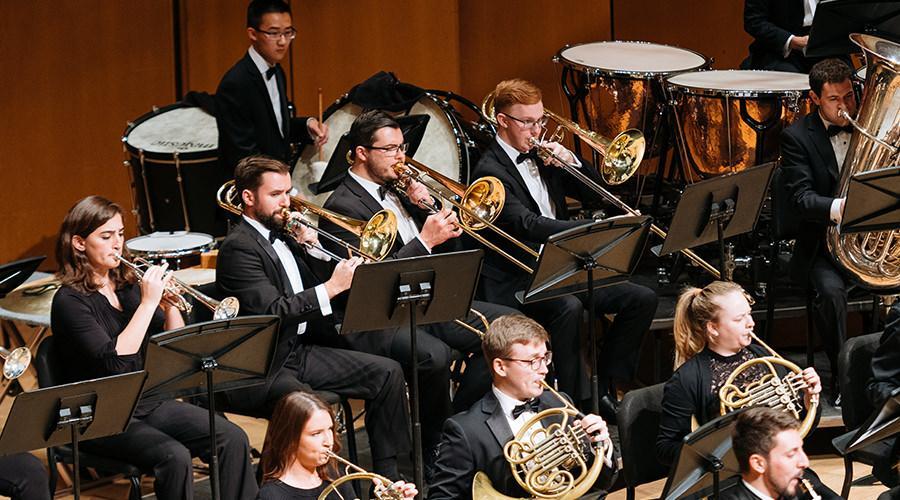 Friday, February 17, 2023 at 7:30pm CST
Pick-Staiger Concert Hall
Mallory Thompson, conductor

On the subject of her work Magneticfireflies, Augusta Read Thomas explains, "One of the main intentions of this music is the juxtaposition between stark, bold, individual colors, such as a loud solo trumpet, Mahler style, with a completely blended timbre, Debussy style." This is followed by Merlin Patterson's wind band transcription of one of Debussy's most-performed piano preludes, La cathédrale engloutie (The Engulfed Cathedral), depicting the grandeur of an enigmatic cathedral rising and falling into the sea. Concluding the first half of the program is Igor Stravinsky's 20th-century masterwork Symphonies of Wind Instruments, at the core of which is a chorale written in memory of Claude Debussy. The second half of the program features a contrasting set of "symphonies" by Jeff Tyzik, who composed the work "during the pandemic as I began to feel very hopeful about the future and the value of music in how it can lift the human spirit."

Augusta Read Thomas, Mageneticfireflies
Claude Debussy (trans. Merlin Patterson), La cathédrale engloutie (The Engulfed Cathedral)
Igor Stravinsky, Symphonies of Wind Instruments
Jeff Tyzik, Symphonies
Tickets are $8 for the general public and $5 for students with valid ID.
Sold Out
---
Pick-Staiger Concert Hall
Address
50 Arts Cir Dr
Evanston, IL 60208
United States
About
Pick-Staiger is a 972-seat hall located in the Arts Circle on the Evanston campus of Northwestern University. The main lobby entrance for concerts is on the west side of the building (revolving and regular doors). Since its inception in 1975, the hall has functioned as both a classroom and performance facility for Bienen School of Music performing ensembles, faculty recitals, festivals, and professional guest artists.