Bienen Ensembles
Symphonic Wind Ensemble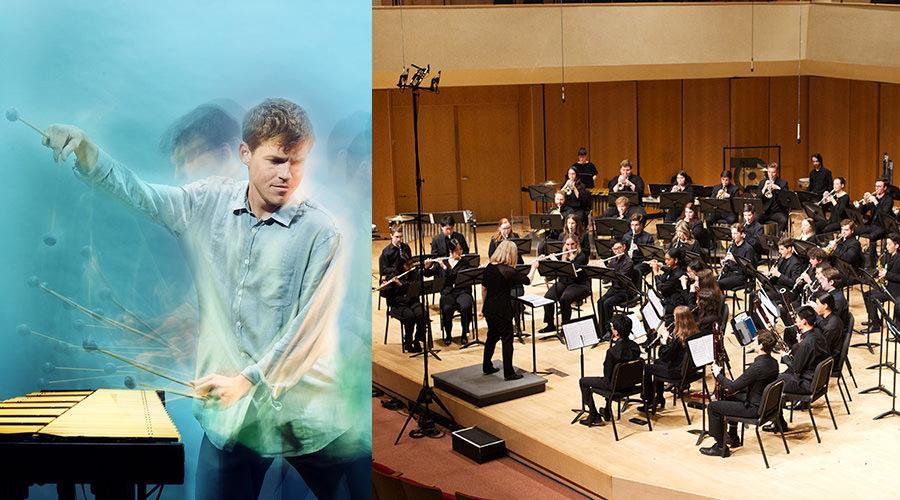 Friday, November 11, 2022 at 7:30pm CST
Pick-Staiger Concert Hall
This performance will also be presented as a live stream.
Mallory Thompson, conductor; Jacob Nissly, guest percussion soloist

A program of works evoking the natural and mechanical worlds. The wind arrangement of Adam Schoenberg's percussion concerto Losing Earth, originally written for the San Francisco Symphony, was commissioned by Mallory Thompson and Northwestern's Symphonic Wind Ensemble. This world premiere features Northwestern alumnus and San Francisco Symphony principal percussionist Jacob Nissly. Shuying Li's The Last Hive Mind and "Machine" from William Bolcom's Symphony No. 5 reflect machines and humanity's relationship to them. Warren Benson's introspective The Leaves Are Falling was written as an expression of grief after the assassination of President John F. Kennedy. It is based on Rilke's poem "Autumn," which includes the words "And in the nights the heavy earth is falling from all the stars down into loneliness."
William Bolcom, "Machine" from Symphony No. 5
Shuying Li, The Last Hive Mind
Warren Benson, The Leaves Are Falling
Adam Schoenberg, Losing Earth
Tickets are $8 for the general public and $5 for students with valid ID.
Sold Out
---
Pick-Staiger Concert Hall
Address
50 Arts Cir Dr
Evanston, IL 60208
United States
About
Pick-Staiger is a 972-seat hall located in the Arts Circle on the Evanston campus of Northwestern University. The main lobby entrance for concerts is on the west side of the building (revolving and regular doors). Since its inception in 1975, the hall has functioned as both a classroom and performance facility for Bienen School of Music performing ensembles, faculty recitals, festivals, and professional guest artists.