Bienen Ensembles
Symphonic Wind Ensemble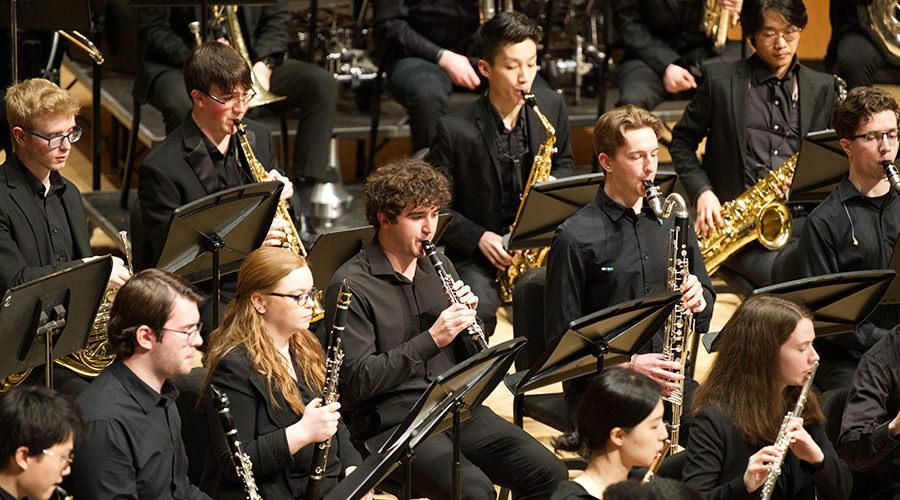 Friday, October 21, 2022 at 7:30pm
Pick-Staiger Concert Hall
Mallory Thompson, conductor

The Symphonic Wind Ensemble opens the academic year with Leonard Bernstein's rousing overture to Candide, followed by Jennifer Higdon's wind arrangement of her setting of the Latin chant O Magnum Mysterium. Higdon shares that the work is a "tribute to the wonderful mystery of how music moves us." The program continues with Ryan Lindveit's evocative Mysterious Butterflies, composed as a tribute to the founder of neuroscience, Santiago Ramón y Cajal. Lindveit explains that he was "deeply inspired by the idea that the human quest for understanding the mysteries of life can—even should—be beautiful and elegant, like a flower garden filled with butterflies." Concluding the concert is Paul Hindemith's classic Symphonic Metamorphosis on Themes of Carl Maria von Weber, as transcribed by Keith Wilson.
Tickets are $8 for the general public and $5 for students with valid ID.
Sold Out
---
Pick-Staiger Concert Hall
Address
50 Arts Cir Dr
Evanston, IL 60208
United States
About
Pick-Staiger is a 989-seat hall located in the Arts Circle on the Evanston campus of Northwestern University. The main lobby entrance for concerts is on the west side of the building (revolving and regular doors). Since its inception in 1975, the hall has functioned as both a classroom and performance facility for Bienen School of Music performing ensembles, faculty recitals, festivals, and professional guest artists.