Bienen Ensembles
Symphonic Band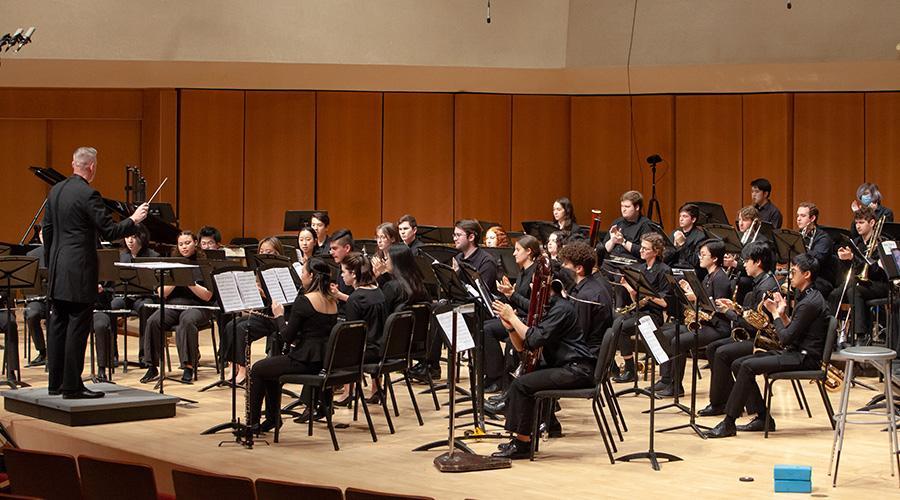 Sunday, April 30, 2023 at 3:00pm CDT
Pick-Staiger Concert Hall
Shawn Vondran, conductor
The Symphonic Band's first concert of the spring is a celebration of American voices past and present, opening with Kimberly Archer's Fanfare Politeia—performed by the "President's Own" United States Marine Band for the 2021 Presidential Inauguration. Steven Bryant describes the program's second work, Alchemy in Silent Spaces, as "music of both personal and musical transformation." The program continues with two important American voices from the past: Morton Gould and Samuel Barber. Commando March is Barber's only original work for wind band, while the "West Point" Symphony is Gould's most important work for wind band and a pillar of the band canon.
Kimberly Archer, Fanfare Politeia
Steven Bryant, Alchemy in Silent Spaces
Samuel Barber, Commando March
Morton Gould, Symphony IV ("West Point")
Tickets are $6 for the general public and $4 for students with valid ID.
Sold Out
---
Pick-Staiger Concert Hall
Address
50 Arts Cir Dr
Evanston, IL 60208
United States
About
Pick-Staiger is a 989-seat hall located in the Arts Circle on the Evanston campus of Northwestern University. The main lobby entrance for concerts is on the west side of the building (revolving and regular doors). Since its inception in 1975, the hall has functioned as both a classroom and performance facility for Bienen School of Music performing ensembles, faculty recitals, festivals, and professional guest artists.