Bienen Ensembles
Symphonic Band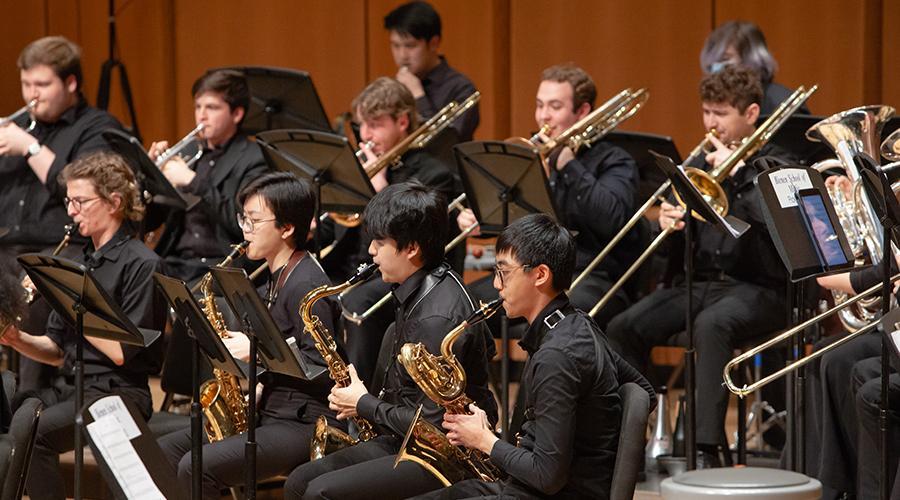 Friday, June 2, 2023 at 7:30pm CDT
Pick-Staiger Concert Hall
Shawn Vondran, conductor
The Symphonic Band's final concert of the academic year is, in part, a study in light and dark. The performance opens with a true surround sound experience in Ron Nelson's antiphonal work Resonances I. Continuing the program is Frank Ticheli's Lux Perpetua, examining "the idea of light as both protector and illuminator." This work is juxtaposed with From a Dark Millennium, composed by Northwestern alumnus Joseph Schwantner. The second half of the program begins with a short fanfare, Don't Be Evil, commenting on a different kind of darkness in the form of Big Tech. Concluding the program is a work Robert Traugh, Spark and Fire—a collection of four essays for wind ensemble revolving around the issue of anxiety in 21st –century society.
Ron Nelson, Resonances I
Frank Ticheli, Lux Perpetua
Joseph Schwantner, From a Dark Millennium
Ryan Lindveit, Don't Be Evil (Fanfare for Band)
Robert Traugh, Spark and Fire: Four Essays for Wind Ensemble
Tickets are $6 for the general public and $4 for students with valid ID.
Sold Out
---
Pick-Staiger Concert Hall
Address
50 Arts Cir Dr
Evanston, IL 60208
United States
About
Pick-Staiger is a 972-seat hall located in the Arts Circle on the Evanston campus of Northwestern University. The main lobby entrance for concerts is on the west side of the building (revolving and regular doors). Since its inception in 1975, the hall has functioned as both a classroom and performance facility for Bienen School of Music performing ensembles, faculty recitals, festivals, and professional guest artists.