Bienen Ensembles
Northwestern University Symphony Orchestra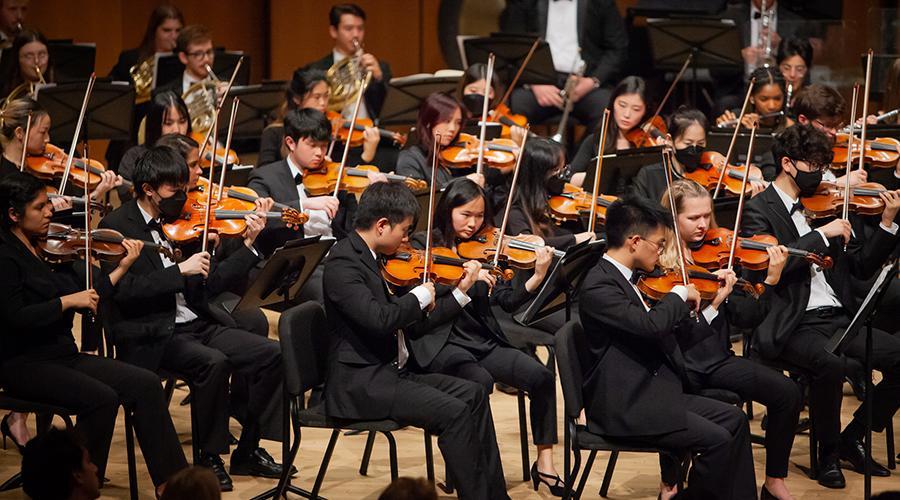 Saturday, June 3, 2023 at 7:30pm CDT
Pick-Staiger Concert Hall
Donald Schleicher, conductor; Yuxin Dai, graduate assistant conductor
The Northwestern University Symphony Orchestra's final concert of the spring opens with the rumba rhythms of George Gershwin's bold and vibrant Cuban Overture, inspired by the composer's 1932 holiday in Havana. The program continues with Leonard Bernstein's Symphonic Suite from the 1954 Elia Kazan film On the Waterfront, capturing the drama that unfolds amid the docks and slums of postwar Hoboken, New Jersey. Concluding the evening is Pyotr Ilyich Tchaikovsky's Symphony No. 5. Out of the shadows of self-doubt, Tchaikovsky composed his fifth symphony, often interpreted as a reckoning with fate. Despite an initially mixed critical reaction, the work was enthusiastically embraced by the audience at its premiere and has since become a beloved staple of the Romantic repertoire.
George Gershwin, Cuban Overture
Leonard Bernstein, On the Waterfront: Symphonic Suite
Pyotr Ilyich Tchaikovsky, Symphony No. 5 in E Minor, Op. 64
Tickets are $8 for the general public and $5 for students with valid ID.
Sold Out
---
Pick-Staiger Concert Hall
Address
50 Arts Cir Dr
Evanston, IL 60208
United States
About
Pick-Staiger is a 972-seat hall located in the Arts Circle on the Evanston campus of Northwestern University. The main lobby entrance for concerts is on the west side of the building (revolving and regular doors). Since its inception in 1975, the hall has functioned as both a classroom and performance facility for Bienen School of Music performing ensembles, faculty recitals, festivals, and professional guest artists.