Festivals & Series
New Orford String Quartet
Part of the Winter Chamber Music Festival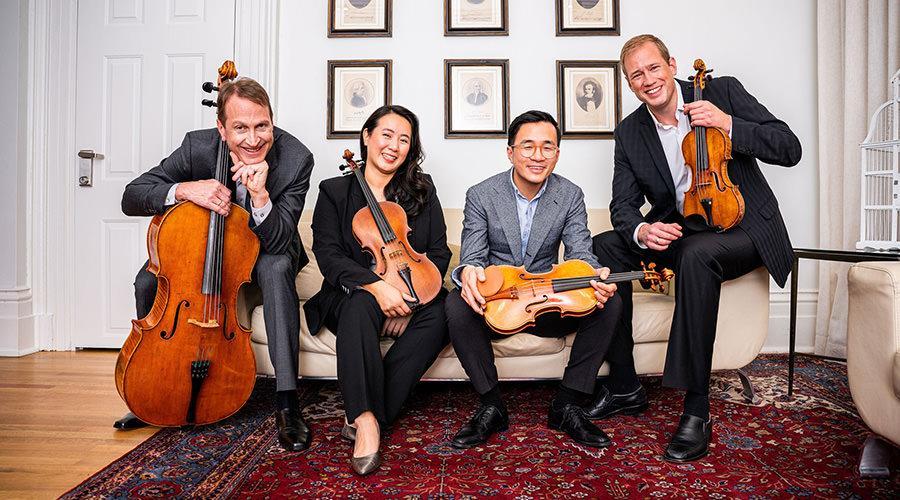 Sunday, January 15, 2023 at 3:00pm CST
Pick-Staiger Concert Hall
Andrew Wan and Jonathan Crow, violin; Sharon Wei, viola; Brian Manker, cello
"These four string virtuosos animate every note with uncommon power and passion as well as elegance. Listen and weep," raves the Toronto Star. The quartet's numerous honors include two Opus Awards for Concert of the Year and a 2017 Juno Award for Best Classical Album. Dedicated to promoting Canadian works, the quartet has performed major 20th-century works by Glenn Gould, Sir Ernest MacMillan, Jacques Hétu, R. Murray Schafer, and Claude Vivier, and commissioned works by such emerging composers as François Dompierre, Gary Kulesha, Airat Ichmouratov, and Tim Brady. Recent chamber music collaborations have included pianists Marc-André Hamelin and Menahem Pressler. The quartet serves as Artist in Residence at the University Club of Toronto.
Kelly-Marie Murphy, Oblique Light
Béla Bartók, String Quartet No. 4 in C Major
Franz Schubert, String Quartet No. 15 in G Major, D. 887
New Subscriber
Winter Chamber Music Festival Program Book
Single tickets are $30 for the general public and $10 for students with valid ID.
Sold Out
---
Pick-Staiger Concert Hall
Address
50 Arts Cir Dr
Evanston, IL 60208
United States
About
Pick-Staiger is a 972-seat hall located in the Arts Circle on the Evanston campus of Northwestern University. The main lobby entrance for concerts is on the west side of the building (revolving and regular doors). Since its inception in 1975, the hall has functioned as both a classroom and performance facility for Bienen School of Music performing ensembles, faculty recitals, festivals, and professional guest artists.