Festivals & Series
Miró Quartet
Part of the Winter Chamber Music Festival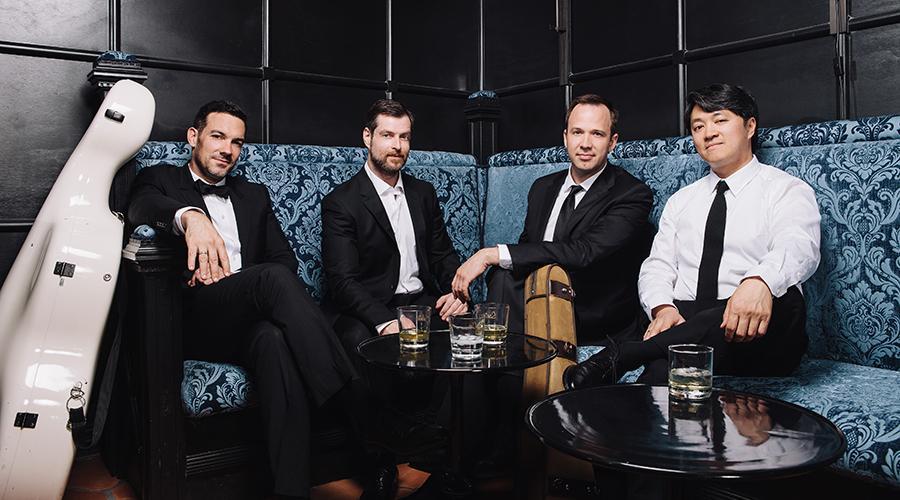 Saturday, January 22, 2022 at 7:30pm CST
Pick-Staiger Concert Hall
"The way the Miró revel in the music's daring without sacrificing any of its surface polish remains impressive."
—Gramophone
Daniel Ching and William Fedkenheuer, violin; John Largess, viola; Joshua Gindele, cello
Winner of an Emmy for the multimedia project Transcendence and the first ensemble to be awarded an Avery Fisher Career Grant, the Austin-based Miró Quartet seeks out new ways to communicate with audiences of all backgrounds while cultivating the longstanding tradition of chamber music. Their 2020-21 season saw them regularly performing newly-commissioned works together with music of Dvořák and Schubert. Other recent season highlights have included a sold-out return to Carnegie Hall to perform Beethoven's Op. 59 quartet, performances for the New York Philharmonic with Gabriel Kahane, and appearances with the Chamber Music Society of Lincoln Center, as well as debut performances in Korea, Singapore, and at the Hong Kong International Chamber Music Festival.
W. A. Mozart, String Quartet No. 17 in B-flat Major, K. 458 ("The Hunt")
Kevin Puts, Home
Maurice Ravel, String Quartet in F Major
Sold Out
---
Pick-Staiger Concert Hall
Address
50 Arts Cir Dr
Evanston, IL 60208
United States
About
Pick-Staiger is a 989-seat hall located in the Arts Circle on the Evanston campus of Northwestern University. The main lobby entrance for concerts is on the west side of the building (revolving and regular doors). Since its inception in 1975, the hall has functioned as both a classroom and performance facility for Bienen School of Music performing ensembles, faculty recitals, festivals, and professional guest artists.