Recitals & Visiting Artists
Late Style in Exile: Beethoven and the Missa Solemnis
Part of the Music Studies Global Distinguished Speakers Series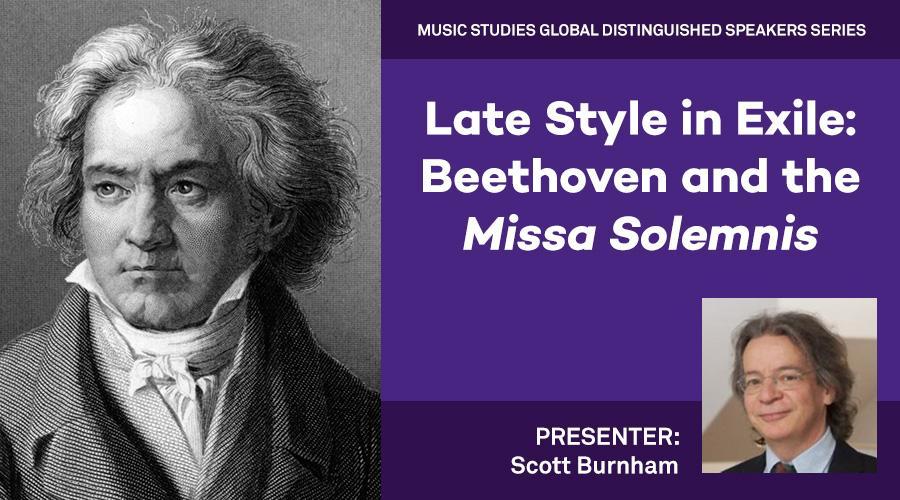 Thursday, January 26, 2023 at 4:00pm
Online via Zoom
Presented by Scott Burnham, Distinguished Professor of Music at the City University of New York 
Massive, difficult, and ever imposing, Beethoven's Missa Solemnis has often been exiled to its own problematic space, apart from the rest of his later music. This talk will engage some of the contradictions and paradoxes perceived in the Missa Solemnis, listening out for late-style musical traits as well as for features that have made the work problematic throughout its reception history. Along the way, Burnham explores telling resemblances to the composer's Ninth Symphony, as well as intriguing parallels to the Second Part of Goethe's Faust, another sprawling late work that has undergone a vexed reception history. With the help of Edward Said's sense of artistic late style as one of untimely exile, Burnham attempts to characterize the special place the Missa Solemnis holds both in Beethoven's late style and in late style conceived more generally. 
Free Event
About the Presenter
Scott Burnham holds a B.M. from Baldwin-Wallace College, a M.M. in Music Composition from Yale University School of Music, and a Ph.D. in Music Theory and Analysis from Brandeis University. His scholarly interests include the history of tonal theory, problems of analysis and criticism, and 18-and 19th-century music and culture; publications reflecting these concerns have appeared in such journals as Beethoven Forum, Current Musicology, Journal of the American Musicological Society, Journal of Music Theory, Musical Quarterly, Music Theory Spectrum, and 19th-Century Music. He has received fellowships from the National Endowment for the Humanities, the Guggenheim Foundation and the National Humanities Center.
Burnham has taught graduate seminars on the music of Haydn, Mozart, Schubert and Beethoven, analytical issues in tonal music, and the history of tonal theory from Rameau to Schenker; he also teaches undergraduate theory and analysis. He shares his home with his wife Dawna Lemaire, a registered music therapist, and their three children.
Show More
---