Bienen Ensembles
Jazz Small Ensembles
Beneath the Cedar Tree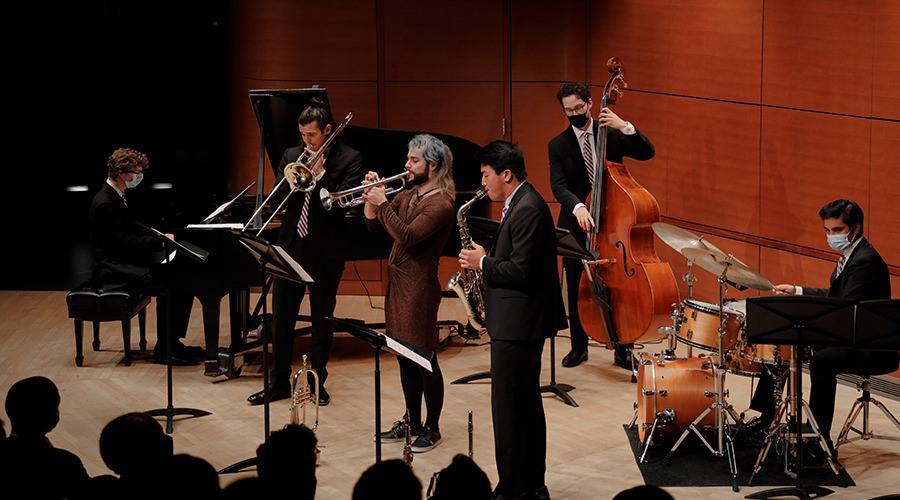 Monday, April 18, 2022 at 7:30pm
McClintock Choral and Recital Room
Darius Hampton, director
Cedar Walton is one of the most celebrated pianists in jazz history, and his work as a composer is equally deserving of celebration. Works such as Bolivia and Firm Roots have become classics and jewels of the jazz canon. This concert features new arrangements inspired by the genius of Cedar Walton and his music.
In the interest of protecting the health and safety of our audience and the Bienen community, the Joe Clark Ensemble has regrettably withdrawn from tonight's performance. The program will feature the Darius Hampton Ensemble only.
Tickets are $6 for the general public and $4 for students with valid ID.
Sold Out
Selections by the Darius Hampton Ensemble
Ben Chaddha, trumpet
Abram Collier, baritone and tenor saxophone
Dylan McGaharn, piano
Evan Diethrich, bass
Cedar Walton (arr. Abram Collier), Jacob's Ladder
Cedar Walton (arr. Dylan McGaharn), The Newest Blues
Cedar Walton (arr. Ben Chaddha), I'm Not So Sure
Show More
---
David and Carol McClintock Choral and Recital Room
Address
70 Arts Circle Drive
Evanston, IL 60208
United States
About
Located in the Patrick G. and Shirley W. Ryan Center for the Musical Arts, this rooms seats 120 and offers a flexible space for choral rehearsals, small ensemble performances, and student recitals.