Festivals & Series
James Ehnes, violin and Andrew Armstrong, piano
Winter Chamber Music Festival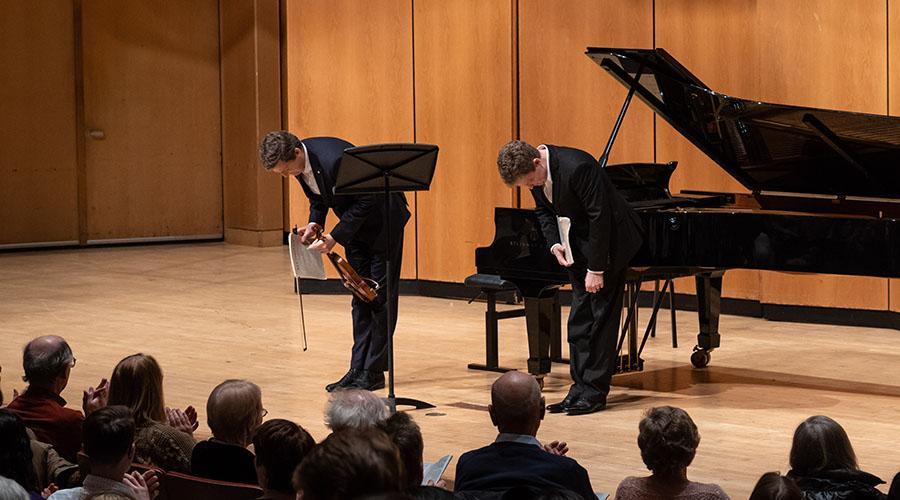 Sunday, January 12, 2020 at 7:30pm
Pick-Staiger Concert Hall
"Violinist James Ehnes and pianist Andrew Armstrong play together with an easy spark and suppleness that only old friends really can."
—The Guardian
James Ehnes and Andrew Armstrong conclude their survey of the complete Beethoven violin sonatas over two special performances. A favorite of many of the world's most respected conductors, Grammy Award-winning violinist Ehnes has appeared with the Boston, Chicago, London, NHK, and Vienna symphony orchestras, among others. In the 2018-19 season, he made his debut with the London Philharmonic Orchestra at Lincoln Center. Pianist Andrew Armstrong has performed with such conductors as Peter Oundjian, Itzhak Perlman, Günther Herbig, Stefan Sanderling, Jean-Marie Zeitouni, and Stanisław Skrowaczewski. His chamber appearances have included the Elias, Alexander, American, and Manhattan String Quartets, as well as the Caramoor Virtuosi, Boston Chamber Music Society, Seattle Chamber Music Society, and the Jupiter Symphony Chamber Players.
Music of Ludwig van Beethoven:
Violin Sonata No. 6 in A Major, Op. 30, No. 1
Violin Sonata No. 8 in G Major, Op. 30, No. 3
Violin Sonata No. 9 in A Major, Op. 47 ("Kreutzer")
Winter Chamber Music Festival subscriptions are now available. Single tickets, on sale November 15, are $30 for the general public and $10 for students with valid ID.
Sold Out
---
Pick-Staiger Concert Hall
Address
50 Arts Cir Dr
Evanston, IL 60208
United States
About
Pick-Staiger is a 989-seat hall located in the Arts Circle on the Evanston campus of Northwestern University. The main lobby entrance for concerts is on the west side of the building (revolving and regular doors). Since its inception in 1975, the hall has functioned as both a classroom and performance facility for Bienen School of Music performing ensembles, faculty recitals, festivals, and professional guest artists.