Festivals & Series
Haydn and Mozart: Humor and Heartache
Keyboard Conversations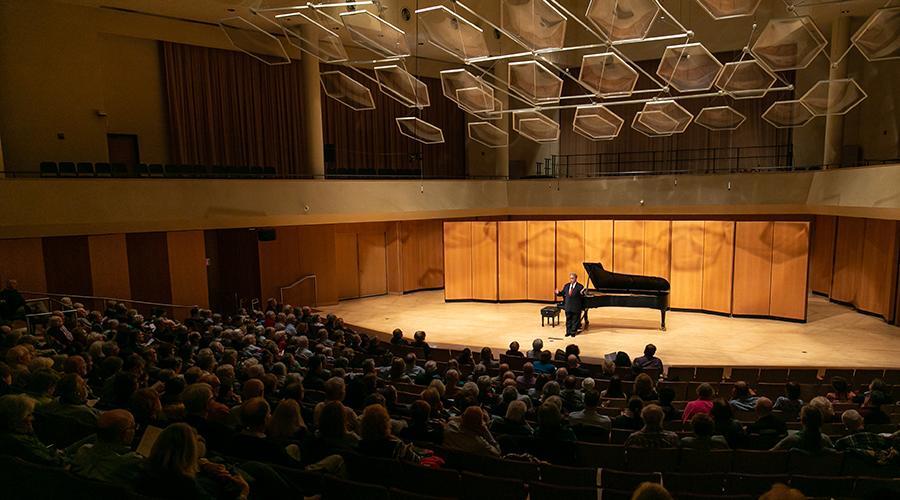 Friday, September 27, 2019 at 7:30pm
Pick-Staiger Concert Hall
Jeffrey Siegel, piano
Haydn's exhilarating Gypsy Rondo, the deep pathos of his F Minor Variations, and Mozart's tempestuous A Minor Sonata illustrate the two composers' many musical moods. These two popular composers wrote some of the most witty, charming, joyful compositions in the classical music canon, as well as extraordinarily intimate, deeply personal compositions inspired by traumatic moments in their lives. Haydn's soulful Variations were written in 1793 in Vienna, after the death of the person closest to him. Mozart's monumental A Minor Sonata was written in 1778 in Paris, following the death of his mother; for the first time in his life the composer found himself alone, in a city not showering him with the applause he was used to, and facing the bitter realities of life. 
Franz Joseph Haydn, The Gypsy Rondo, Hob. XV: 25
Franz Joseph Haydn, Andante and Variations, Hob. XVII: 6
Franz Joseph Haydn, Minuet in E-flat Major from Sonata, Hob. XVI: 49
Franz Joseph Haydn, Finale: Presto from Trio in C Major, Hob. XV: 27
W. A. Mozart, Sonata in A Minor, K. 309
Keyboard Conversations subscriptions are now available. Single tickets are $30 for the general public and $10 for students with valid ID.
Sold Out
---
Pick-Staiger Concert Hall
Address
50 Arts Cir Dr
Evanston, IL 60208
United States
About
Pick-Staiger is a 989-seat hall located in the Arts Circle on the Evanston campus of Northwestern University. The main lobby entrance for concerts is on the west side of the building (revolving and regular doors). Since its inception in 1975, the hall has functioned as both a classroom and performance facility for Bienen School of Music performing ensembles, faculty recitals, festivals, and professional guest artists.