Bienen Ensembles
Contemporary Music Ensemble
Part of NUNC! 5 (the Northwestern University New-Music Conference)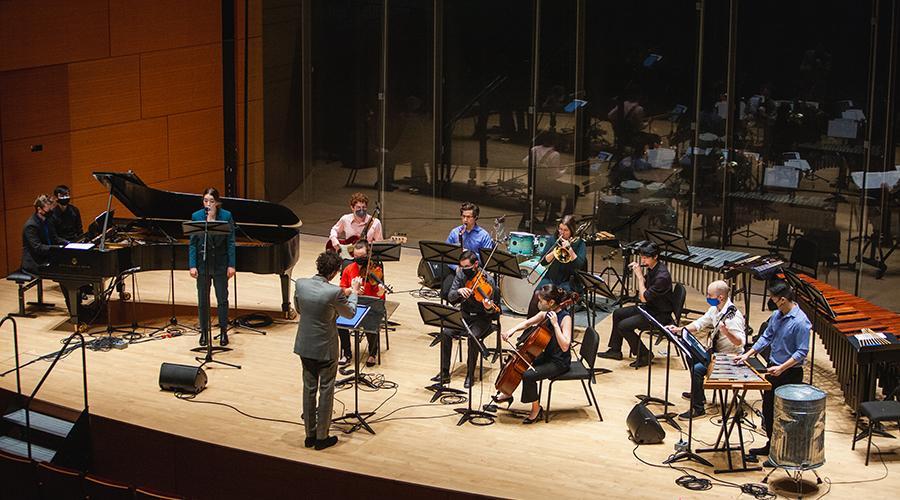 Sunday, April 23, 2023 at 7:30pm CDT
Galvin Recital Hall
Ben Bolter and Alan Pierson, conductors

The Contemporary Music Ensemble brings NUNC! 5 to a close with Julia Wolfe's Impatience, a work written to be performed live with the 1928 Charles Dekeukeleire film of the same name. Their program also features Alex Temple ('17 DMA)'s rollicking tribute to—and critique of—Frank Zappa, The Man Who Hated Everything, as well as Tania León's Rítmicas, a work the composer based on "a rhythmic spectrum that creates a rainbow of polyrhythmic inventions" inspired by the music of Cuban composer Amadeo Roldán.

Julia Wolfe, Impatience
Alex Temple, The Man Who Hated Everything
Tania León, Rítmicas
Tickets are $8 for the general public and $5 for students with valid ID.
Sold Out
About NUNC! 5
April 21-23, 2023
The Institute for New Music's fifth conference and festival, NUNC! 5, will feature guest composers Julia Wolfe and Alex Temple as well as guest keynote speaker Miki Kaneda (Boston University). Guest ensembles include the New York-based Yarn/Wire.
The Northwestern University Symphony Orchestra, conducted by Alan Pierson, will open the conference with a performance of Luciano Berio's Sinfonia alongside Julia Wolfe's Fountain of Youth and Anna Meredith's Nautilus. The Bienen Contemporary/Early Vocal Ensemble, led by Donald Nally, will give the Midwest premiere of Julia Wolfe's Letter from Abigail together with David Lang's the national anthems. The conference will close with a Contemporary Music Ensemble concert conducted by Ben Bolter and Alan Pierson, featuring Julia Wolfe's Impatience, Alex Temple's The Man Who Hated Everything and Tania León's Rítmicas.
Show More
---
Mary B. Galvin Recital Hall
Address
70 Arts Circle Drive
Evanston, IL 60208
United States
About
Located in the Ryan Center for the Musical Arts, this 400-seat hall features a 40-foot glass wall offering views of Lake Michigan and the Chicago skyline. Undulating walls of Forest Stewardship Council–certified wood, covered with a thin layer of African moabi wood, provide optimal acoustics, and the hall is equipped with state-of-the-art sound and video equipment for recording.