Bienen Ensembles
Contemporary Music Ensemble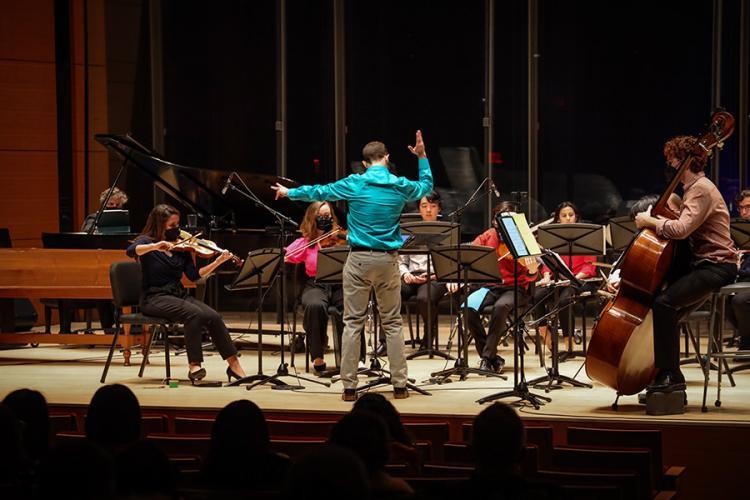 Friday, February 10, 2023 at 7:30pm CST
Galvin Recital Hall
Alan Pierson and Ben Bolter, conductors; Jennifer Huang, graduate assistant conductor; Emily Levin and Michelle Gott, harp

Dallas Symphony Orchestra principal harpist Emily Levin and Michelle Gott, a regular soloist with orchestras and ensembles throughout the US and Canada, join the Contemporary Music Ensemble for a world premiere by composer Aaron Holloway-Nahum. Also featured on the program are Ted Hearne's dance-like 2019 work Authority and a world premiere by Bienen composer Quan Wen.
Quan Wen, They Bought Some Kerfuffle and Lost Their Virginity, Etcetera
Aaron Holloway-Nahum, Everything Around Me is Crying to Be Gone (world premiere)
Ted Hearne, Authority
Tickets are $8 for the general public and $5 for students with valid ID.
Sold Out
---
Mary B. Galvin Recital Hall
Address
70 Arts Circle Drive
Evanston, IL 60208
United States
About
Located in the Ryan Center for the Musical Arts, this 400-seat hall features a 40-foot glass wall offering views of Lake Michigan and the Chicago skyline. Undulating walls of Forest Stewardship Council–certified wood, covered with a thin layer of African moabi wood, provide optimal acoustics, and the hall is equipped with state-of-the-art sound and video equipment for recording.