Bienen Ensembles
Contemporary Music Ensemble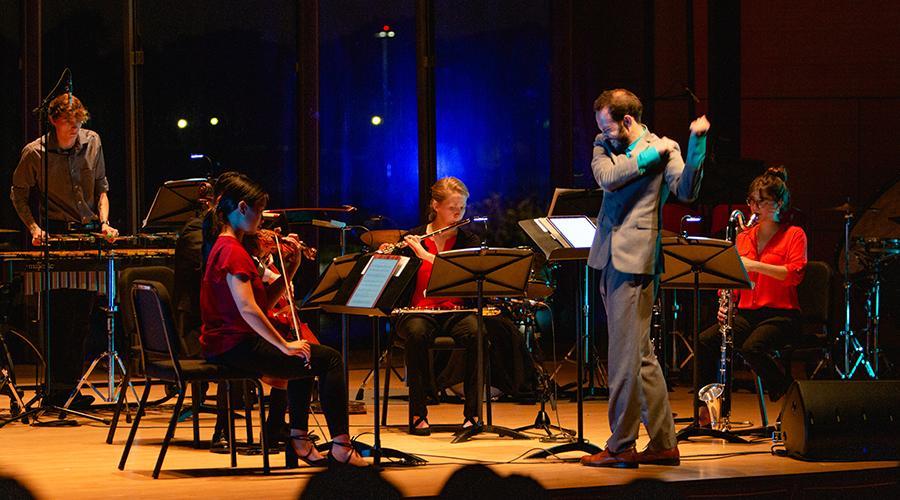 Friday, May 21, 2021 at 7:30pm CDT
Online
This performance will be presented as a live stream. Visit https://www.music.northwestern.edu/live after 7:20 p.m. CDT to view the performance.
Ben Bolter, conductor/director
Jessie Cox, Quantify
Ruud Roelofsen, Memento Mori (world premiere)
Alex Temple, The Man Who Hated Everything
For its final concert of the season, the Contemporary Music Ensemble comes together in-person for the first time in over a year. The ensemble reprises Jessie Cox's Quantify, performed via remote live stream in March, and gives the world premiere of Bienen PhD composition student Ruud Roelofsen's Memento Mori. The program closes with Bienen alumna Alex Temple's The Man Who Hated Everything, a rollicking, genre-bending tribute to—and critique of—Frank Zappa that music critic George Wallace dubbed "a total blazing hoot." Joining the ensemble for Temple's work are singers from the Bienen Contemporary/Early Vocal Ensemble (BCE) and Ensemble Dal Niente guitarist Jesse Langen.
Free Event
---