Bienen Ensembles
Contemporary Music Ensemble
Part of the Northwestern University New Music Conference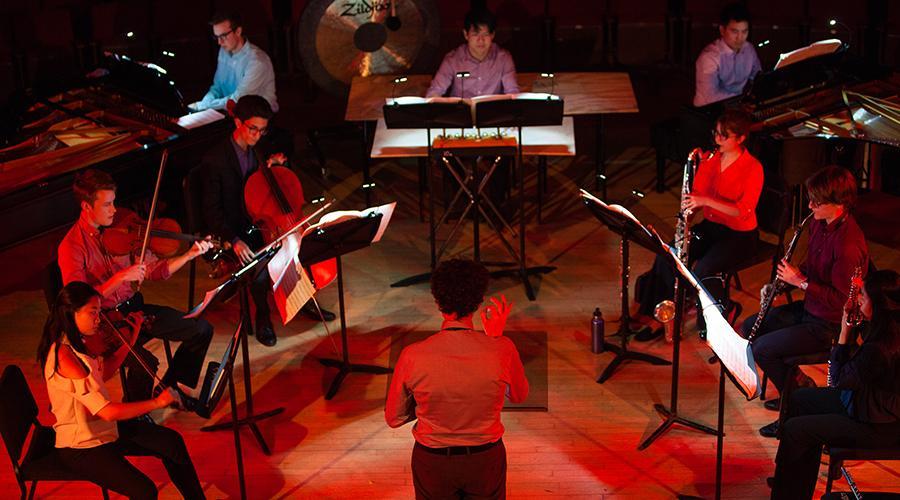 Saturday, April 24, 2021 at 7:30pm CDT
Online
More information about the Northwestern University New Music Conference
This performance will be presented as a live stream. Visit https://www.music.northwestern.edu/live after 7:20 p.m. CDT to view the performance.
Alan Pierson and Ben Bolter, co-directors
Jennifer Walshe, guest composer
Alyssa Pyper, violin and vocal soloist
The Contemporary Music Ensemble concludes the Northwestern University New Music Conference (NUNC! 4) with music of Jennifer Walshe and Alyssa Pyper. Jennifer Walshe's HYGIENE is a theatrical work for musicians, a reflection on the German concept of mental and physical hygiene. Following the performance of her work, Walshe joins Contemporary Music Ensemble co-directors Alan Pierson and Ben Bolter for a live conversation.
Singer-songwriter-violinist Alyssa Pyper created Cradle as part of a symbolic journey into the trauma of growing up gay and Mormon, and as part of a quest for healing. Cradle reckons with the personal and cultural "mother wound," informed by Pyper's experience in the Mormon faith. She joins the ensemble live from Port Townsend, Washington for this performance.
Jennifer Walshe, HYGIENE
Alyssa Pyper, Cradle (featuring violin and vocal soloist Alyssa Pyper)
Free Event
---