Bienen Ensembles
Concert and Live Stream: Symphonic Wind Ensemble Alumni
50th Anniversary Celebration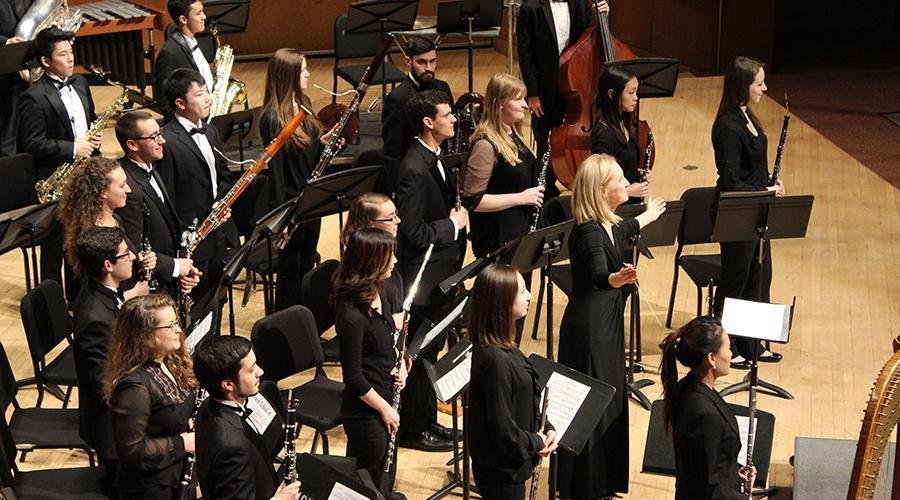 Sunday, June 9, 2019 at 7:30pm CDT
Pick-Staiger Concert Hall
Mallory Thompson, conductor
This performance will also be presented as a live stream. Visit https://www.music.northwestern.edu/live after 7:20 p.m. Central on Sunday, June 9 to view the performance.
Since 1969 the Symphonic Wind Ensemble, founded and originally directed by John P. Paynter, has developed and maintained a reputation for innovation and artistry. Under director Mallory Thompson, SWE has participated in dozens of commissioning consortia and presented numerous world premieres. The ensemble has earned acclaim from such composers as John Adams, John Corigliano, David Maslanka, and Michael Ludwig Nemmers Prize winner Jennifer Higdon. 2019 marks the 50th anniversary of the ensemble's founding. In celebration of this special occasion, Mallory Thompson welcomes back SWE alumni from all over the world for a weekend of music and fellowship. More than 150 SWE alumni from virtually every major orchestra and military ensemble will perform a program of wind masterworks and ensemble favorites by composers including Arnold, Bach, Handel, Hindemith, Holst, Lauridsen, Maslanka, Mozart, Prokofiev, Shostakovich, Strauss, and Whitacre.
The SWE celebration weekend is sponsored by the Bienen School of Music. Partial support is also provided by an Alumnae Grant for Academic Enrichment from The Alumnae of Northwestern University.
Free Event
---
Pick-Staiger Concert Hall
Address
50 Arts Cir Dr
Evanston, IL 60208
United States
About
Pick-Staiger is a 989-seat hall located in the Arts Circle on the Evanston campus of Northwestern University. The main lobby entrance for concerts is on the west side of the building (revolving and regular doors). Since its inception in 1975, the hall has functioned as both a classroom and performance facility for Bienen School of Music performing ensembles, faculty recitals, festivals, and professional guest artists.