Bienen Ensembles
Bienen Contemporary/Early Vocal Ensemble
Song of Songs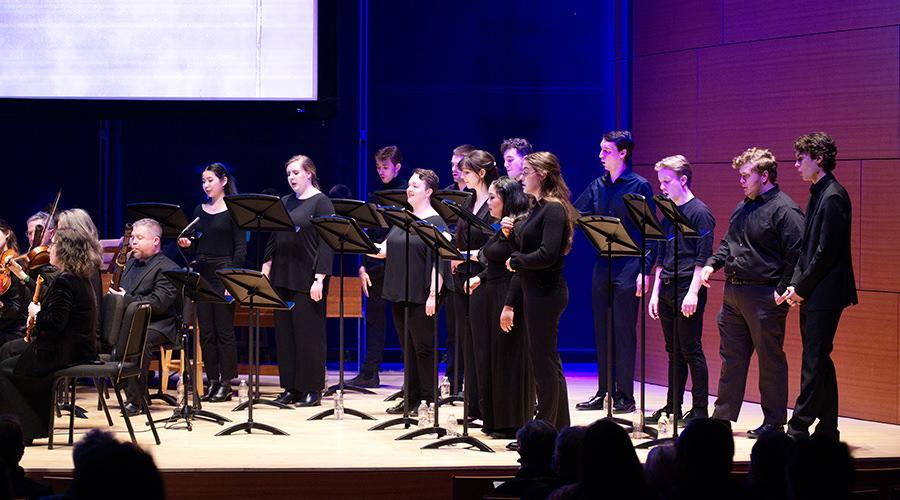 Friday, November 11, 2022 at 7:30pm CST
Galvin Recital Hall
Andrew Megill, conductor
Renowned conductor Andrew Megill—chorus master at Montreal Symphony, Music of the Baroque, and Carmel Bach Festival, as well as professor at the University of Illinois—leads BCE in a brief, yet marvelously varied, program of works ranging from English composer John Dunstable's music of the early 15th century to French composer Daniel Lesur's Cantique des cantiques of the mid-20th century.
John Dunstable, "Quam pulchra es"
Sven David Sandström, Four Songs of Love
Scott Wilkinson, "Rise up, my love"
Healey Willan, "Rise up, my love"
Edvard Grieg, "Hvad est du dog skjön"
Daniel Lesur, Cantique des cantiques (excerpts)
Tickets are $8 for the general public and $5 for students with valid ID.
Sold Out
---
Mary B. Galvin Recital Hall
Address
70 Arts Circle Drive
Evanston, IL 60208
United States
About
Located in the Ryan Center for the Musical Arts, this 400-seat hall features a 40-foot glass wall offering views of Lake Michigan and the Chicago skyline. Undulating walls of Forest Stewardship Council–certified wood, covered with a thin layer of African moabi wood, provide optimal acoustics, and the hall is equipped with state-of-the-art sound and video equipment for recording.