Bienen Ensembles
Bienen Contemporary/Early Vocal Ensemble
Part of the William Byrd Festival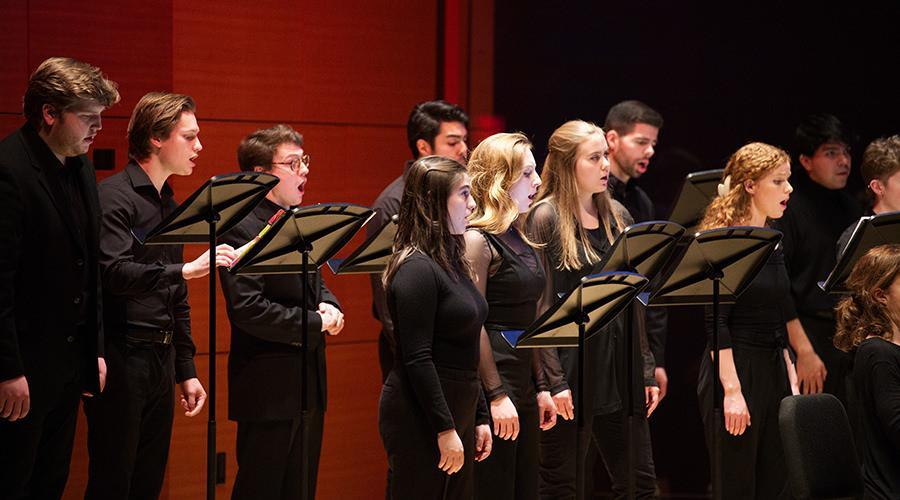 Friday, October 28, 2022 at 8:00pm
Galvin Recital Hall
Pre-concert talk by guest scholar Dr. Kerry McCarthy, 6:45 p.m.

Donald Nally, Logan Henke, Tim Lambert, Victoria Marshall, and Jack Reeder, conductors; Charles Foster, virginal

The William Byrd Festival explores the composer's secular side through a sampling of his gracefully plaintive, melancholy Songs of Sundrie Natures and Songs of Sadness and Pietie. The intimate sounds of the virginal evoke the turn of the 17th century— a time of sophisticated courtly chamber music, political intrigue, and musical evolution.
Tickets are $8 for the general public and $5 for students with valid ID.
Buy Tickets
William Byrd Festival
October 27-30 at the Bienen School of Music
About the Festival
Widely considered one of the greatest Renaissance composers, William Byrd (1539/40–1623) had a profound impact on composers in his native England as well as in continental Europe. His sacred and secular polyphony, keyboard works, and consort music continue to inspire generations of composers and performers alike. Commemorating the 400th anniversary of his death, Bienen School ensembles, faculty, and special guests celebrate his legacy.
Show More
---
Mary B. Galvin Recital Hall
Address
70 Arts Circle Drive
Evanston, IL 60208
United States
About
Located in the Ryan Center for the Musical Arts, this 400-seat hall features a 40-foot glass wall offering views of Lake Michigan and the Chicago skyline. Undulating walls of Forest Stewardship Council–certified wood, covered with a thin layer of African moabi wood, provide optimal acoustics, and the hall is equipped with state-of-the-art sound and video equipment for recording.