Bienen Ensembles
Bienen Contemporary/Early Vocal Ensemble
Part of NUNC! 5 (the Northwestern University New-Music Conference)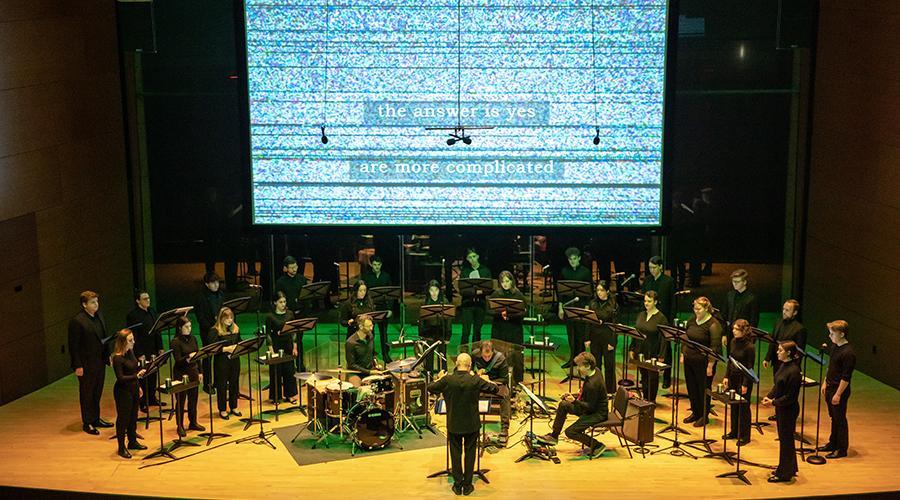 Saturday, April 22, 2023 at 5:00pm
Galvin Recital Hall
This event was rescheduled from 4 p.m. to 5 p.m.
Donald Nally, conductor; Jack Reeder, assistant conductor; Charles Foster, keyboard; with Zafa Collective

"I desire you would remember the ladies and be more generous and favorable to them than their ancestors." Thus begins Julia Wolfe's musical meditation on our struggle for women's rights through the lens of a letter from Abigail Adams to her husband John—dated March 31, 1776—with half of the emerging nation's population in the balance. Wolfe's 2022 Letter from Abigail is paired with David Lang's the national anthems, a collection of phrases from many nations' anthems with one common thread: "Please don't make us live in chains again." Also on the program are Lang's where you go, inspired by the well-known phrase from the Book of Ruth, and Michael Gordon's Anonymous Man—a memoir chronicling the composer's time in a neighborhood in transition, and his conversations with two homeless men living there.

Julia Wolfe, Letter from Abigail (Midwest premiere)
David Lang, the national anthems
David Lang, where you go
Michael Gordon, Anonymous Man
Tickets are $8 for the general public and $5 for students with valid ID.
Buy Tickets
About NUNC! 5
April 21-23, 2023
The Institute for New Music's fifth conference and festival, NUNC! 5, will feature guest composers Julia Wolfe and Alex Temple as well as guest keynote speaker Miki Kaneda (Boston University). Guest ensembles include the New York-based Yarn/Wire, who will present a concert, workshop and master class.
The Northwestern University Symphony Orchestra, conducted by Alan Pierson, will open the conference with a performance of Luciano Berio's Sinfonia alongside Julia Wolfe's Fountain of Youth and Anna Meredith's Nautilus. The Bienen Contemporary/Early Vocal Ensemble, led by Donald Nally, will give the Midwest premiere of Julia Wolfe's Letter from Abigail together with David Lang's the national anthems. The conference will close with a Contemporary Music Ensemble concert conducted by Ben Bolter and Alan Pierson, featuring Julia Wolfe's Impatience, Alex Temple's The Man Who Hated Everything and Tania León's Rítmicas.
Show More
---
Mary B. Galvin Recital Hall
Address
70 Arts Circle Drive
Evanston, IL 60208
United States
About
Located in the Ryan Center for the Musical Arts, this 400-seat hall features a 40-foot glass wall offering views of Lake Michigan and the Chicago skyline. Undulating walls of Forest Stewardship Council–certified wood, covered with a thin layer of African moabi wood, provide optimal acoustics, and the hall is equipped with state-of-the-art sound and video equipment for recording.