Bienen Ensembles
Bienen Contemporary/Early Vocal Ensemble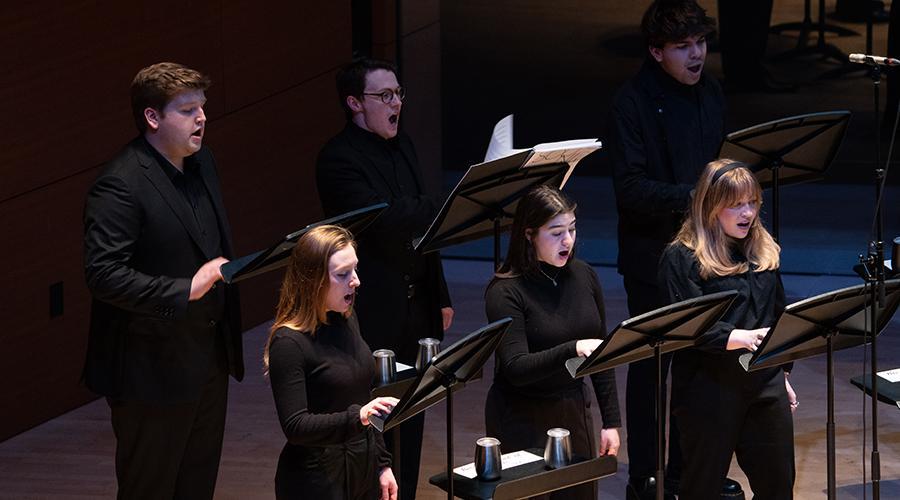 Wednesday, May 17, 2023 at 6:00pm CDT
Galvin Recital Hall
Beth Willer, conductor; Jack Reeder, assistant conductor; Charles Foster, keyboard; Benjy Krauss, percussion

Beth Willer is among the leading commissioners and conductors of new choral music in the US. Having just completed a tour with her ensemble Lorelei at the orchestras of Chicago, San Francisco, Boston, and Nashville, Willer conducts BCE in selections from Wally Gunn's The Ascendant, which the composer describes as "a combination of polyphonic patterns and processes, blended with the angularity and clarity of rock music harmonies and forms." The music is compelling and rhythmic, paired in this program with music of the 17th century: Orlando Di Lasso's heart-wrenching Lagrime di San Pietro.
Tickets are $8 for the general public and $5 for students with valid ID.
Sold Out
---
Mary B. Galvin Recital Hall
Address
70 Arts Circle Drive
Evanston, IL 60208
United States
About
Located in the Ryan Center for the Musical Arts, this 400-seat hall features a 40-foot glass wall offering views of Lake Michigan and the Chicago skyline. Undulating walls of Forest Stewardship Council–certified wood, covered with a thin layer of African moabi wood, provide optimal acoustics, and the hall is equipped with state-of-the-art sound and video equipment for recording.