Bienen Ensembles
Baroque Music Ensemble
Something Borrowed: Eighteenth-Century Gems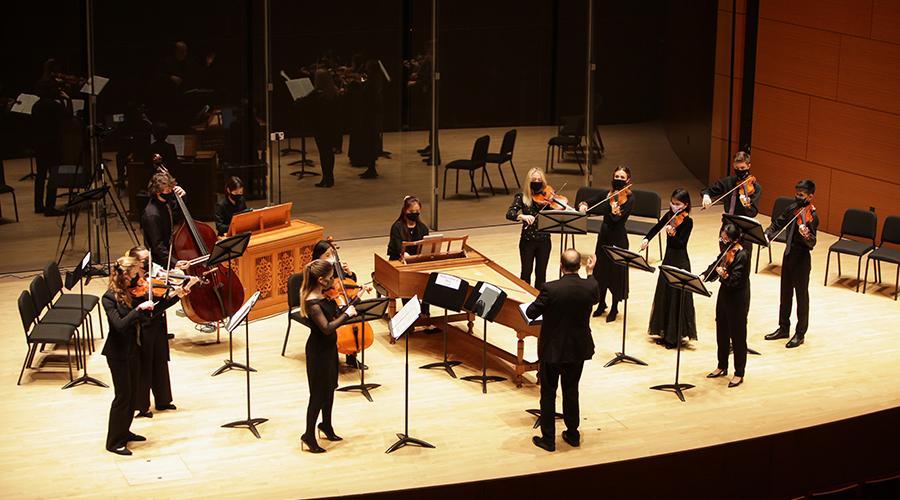 Sunday, February 20, 2022 at 7:30pm
Galvin Recital Hall
Stephen Alltop, conductor; Moyoue Zhou, assistant conductor; Amanda Beaune, Jelena Lee, Xingyu Li, Mia Wang, and Kristina Zlatareva, violin; Cedar Turner, oboe d'amore; Chungho Lee, harpsichord
The talented members of the Baroque Music Ensemble are showcased as soloists in a variety of works from the Baroque and early Classical periods. This program of concertos and symphonies by J. S. Bach, C. P. E. Bach, and Joseph Haydn underscores the borrowings and influences between these great composers. 
Carl Philipp Emanuel Bach, Symphony in G Major, Wq. 182
J. S. Bach, Brandenburg Concerto No. 4 in G Major, BWV 1049
J. S. Bach, Concerto in A Major, BWV 1055
Joseph Haydn, Symphony No. 6 in D Major ("Le matin")
Free Event
---
Mary B. Galvin Recital Hall
Address
70 Arts Circle Drive
Evanston, IL 60208
United States
About
Located in the Ryan Center for the Musical Arts, this 400-seat hall features a 40-foot glass wall offering views of Lake Michigan and the Chicago skyline. Undulating walls of Forest Stewardship Council–certified wood, covered with a thin layer of African moabi wood, provide optimal acoustics, and the hall is equipped with state-of-the-art sound and video equipment for recording.