Bienen Ensembles
SOLD OUT: Alice Millar Chapel Choir with the Choir of Notre-Dame Cathedral, Paris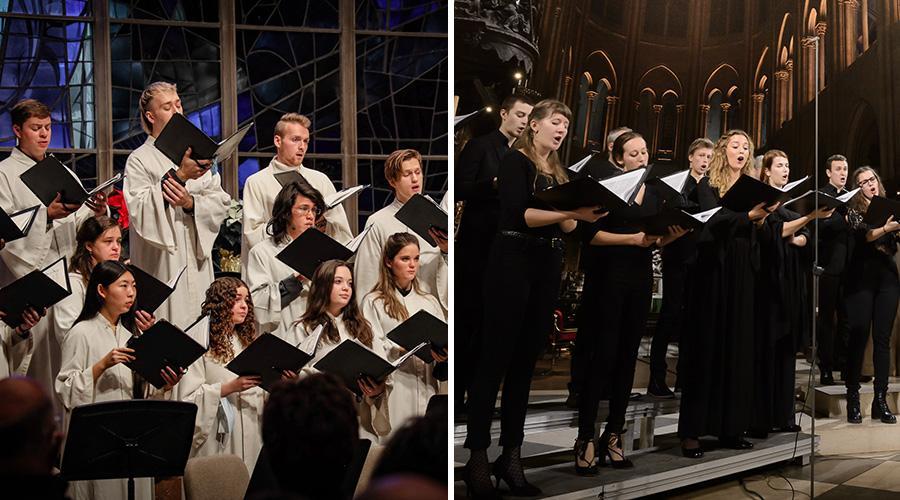 Friday, October 27, 2023 at 7:30pm CDT
Alice Millar Chapel
Stephen Alltop, conductor; Henri Chalet, director; Yves Castagnet, organ
In this very special choral event, the Choir of the Cathedral of Notre-Dame in Paris performs the Messe brève of Yves Castagnet, Francis Poulenc's Litanies à la Vierge Noire (Litany to the Black Virgin), and the Requiem of Gabriel Fauré. The Alice Millar Chapel Choir offers American choral gems and joins the Notre Dame Choir in Fauré's Cantique de Jean Racine.
Tickets are $35 for the general public and $10 for students with valid ID.
Sold Out
Program
Welcome (Rev. Kristen Glass Perez and Dean Jonathan Bailey Holland)
Williametta Spencer, At the Round Earth's Imagined Corners
Dolly Parton (arr. Craig Hella Johnson), "Light of a Clear Blue Morning"
Daniel Gawthrop, Two Motets on Texts of Metaphysical Poets
American Spiritual (arr. Bob Chilcott), "Steal Away"
Rev. J. K. Alwood, Unclouded Day
Louis Vierne, Carillon de Westminster
Francis Poulenc, Litanies à la Vierge Noire
Yves Castagnet, Messe brève
Gabriel Fauré, Requiem, Op. 48
Gabriel Fauré, Cantique de Jean Racine
Show More
---
Alice Millar Chapel
Address
1870 Sheridan Road
Evanston, IL 60208
United States
About
Completed in 1962, this venue houses two chapels: the 700-seat Millar Chapel and the 125-seat Vail Chapel. The Chapel hosts religious services, music performances, lectures, and other events.